Every Audi car comes with some paperwork, amongst this paperwork is the Audi window sticker. 
The Audi window sticker or Audi Monroney sticker is a document that spells out the technical specifications, pricing, and other most sought-after information at a glance for every customer. 
As days turn into weeks, car owners may decide to rip off the window sticker, or the sticker may be lost somehow. 
This gives rise to the question, how can I find my Audi window sticker? In this article, we are going to show you how to obtain a reproduced copy of the original window sticker.
How Can I Find My Audi Window Sticker?
Premiumvin provides you with a reproduced version of the original Audi window sticker for all major manufacturers! 
To obtain the window sticker for any vehicle of your choice will have to search and find the VIN number of that vehicle. Perform the following steps: 
Visit the Premuimvin's

Window Sticker Page

 Inpu

t the required information as the fields below indicates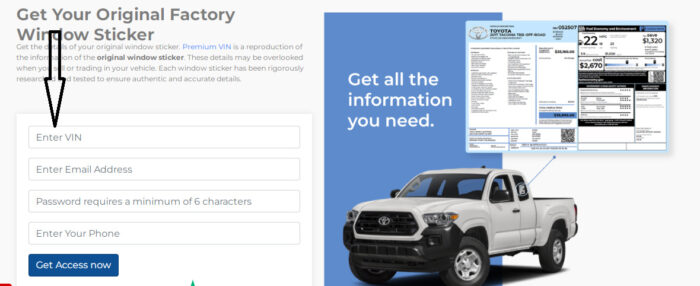 Click on "Gain Access Now" 
Most times you will be required to pay while using this service, but this may not always be the case, premiumvin offers her customer discounts at regular intervals.
What Information Does The Audi Window Sticker Contain?
Everything you need to know about any new or used Audi car is on its window sticker. Auto Shoppers will find the following most crucial information on a window sticker.
Vehicle Description

– each window sticker reveals the make, model, year, and trim level of the vehicle.
Standard and Optional equipment

– This section reveals the numerous features and equipment included with the vehicle.

Warranty information

– vehicle's bumper-to-bumper and powertrain warranty lengths, roadside assistance packages.

Total Vehicle Price-

This section displays the total price of a vehicle.

Fuel economy and Environment

– fuel economy information was given by the U.S. Environmental Protection Agency.

Safety ratings:

Safety ratings from the National Highway Traffic Safety Administration's New Car Assessment Program (NCAP)

Parts content information

–This section includes where the vehicle was assembled and engine transmission information

QR code

– This directs you to the Environmental Protection Agency (EPA) website.
Where Can I Find My Audi Car's VIN?
Here are some places where you can find your Audi car's VIN in the car.
The dashboard 

The windshield 

The front area block of the engine
Find the Audi VIN in the following documents 
Here are some documents where you can find the VIN 
Vehicle title 

Insurance vehicles

Manuals

Car registration

Body repair records

Police report. 

Window sticker

Build sheet
Understanding The Audi Trim Naming Convention
Choosing the trim of your vehicle is one of the most important steps while shopping for a car, it can also be a fun-filled experience, but this may not be the case if you do not understand Audi's trim naming conventions. 
Here are some explanations of the trim naming conventions. 
Premium
Focuses on affordability. Tends to leave out some popular standard equipment with other features only available as extra options
Premium Plus
A compromise between affordable and luxury. Some of the paid features of Premium are standardized here, there is also a possibility of a further upgrade if one desires more features.
Prestige
A complete luxurious vehicle with no features left out. This trim level is a full package there is no reduction in the features of the vehicle.