Avoid Buying a Stolen Car or a car with Hidden Issues.
Protect Yourself by Running a VIN Check Now!
Why You Need A VIN Check Before Purchasing A Used Car?
To Avoid Buying a Flood Damaged Car: With the increase in climate change, the frequency and intensity of flooding will increase and thee are high chances it will get worse in the coming years. As a result, the used car market is helpless in preventing an getting an increase in the influx of cars affected by flood every year.
To Avoid Buying a Stolen Car: NICB reports that nearly half a million of vehicles were stolen in the first half of 2022. This staggering number is enough proof why it's important to run a VIN Check on a used car before buying it.
To Avoid Buying a used car with hidden Issues: It's too costly to assume a seller is honest or that a neat body part is enough proof that the car will be a great buy. Since a high odometer could mean a car might be nearing the end of its lifespan, dishonest sellers try to perform an odometer rollback to fool used car shoppers into thinking that the car is in good working condition and no major repairs will be needed soon.
Do you want a great buy and avoid costly mistakes? Use PremiumVIN most reliable VIN Check tool to access the past records of any used car. Start checking VIN on a car for accident history, actual mileage, damages etc. Our Auction VIN check service or a VIN Check with pictures, also allows our users to access the auction records and photos of a car that has been listed in either one or more auctions.
What You Will Find on a PremiumVIN Vehicle History Report?
Damages
Is there any past or undisclosed damages? What kind of damage?
Accident History
Was the car involved in an accident in the past? how many accident(s)? Minor or major accident?
Theft Record
Was there any records of theft? What it recovered?
Actual Odometer Reading
Was there any odometer rollback or discrepancies?
Auction Records and Photos
Has the car been listed for sales before? How many times?
Previous Owners
How many previous owners? How many years was it owned by each individual?
Loan and Lien Records
Is there any outstanding fee on the car? Was the car used as collateral for a debt owned by the seller?
Service History
What services were completed in the past? What repairs and replacements were performed?
Want to see the history of a used car? Check Now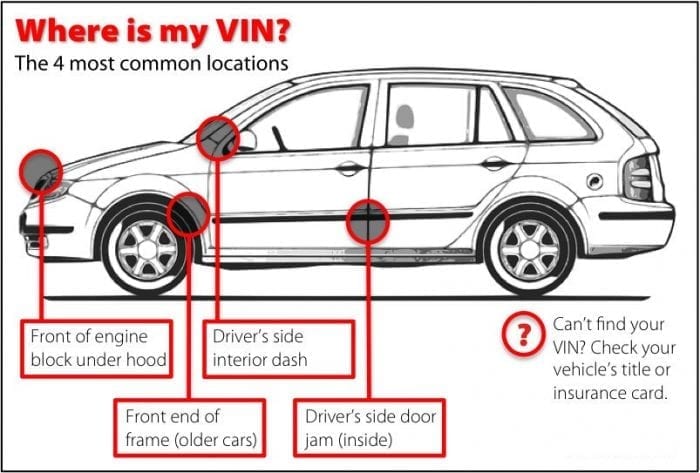 What Customers Are Saying About PremiumVIN Vehicle History Report?
At first, I was really worried about my used-vehicle purchase. I could see its present condition, but, at the same time, I wanted to know if something serious happened to it before. With the help of Premium VIN Report, now I can see the history of the vehicle I am going to buy.
Premium VIN Report comes as a blessing for the used-vehicle buyers. It provides a detailed report of the vehicle. For me, it cleared all the confusion I had in my mind while buying our first second-hand car for our son.
I entered the registration number of the vehicle I want to purchase on the Premium VIN website and it gave me a detailed report of the vehicle that includes important recall inforamtion and notifies me of the real condition of my vehicle.
Selling my used vehicle, I can say that Premium VIN Report was instrumental in helping me sell my vehicle as it showed the buyer I wasn't hiding anything. This creates transparency which helped me sell my vehicle within a week!
Frequently Asked Questions
Question: What is my VIN number?
Answer: VIN stands for Vehicle Identification Number. The VIN number on a car is usually a 17 digit character that are made up of numbers and letters. It's a unique code that distinctly identifies every car. For a vehicle manufactured before 1981, the VIN number may have less than 17 characters.
Question: How to find VIN number on the car?
Answer: A car VIN is usually found on the lower left side of the dashboard, in front of the steering wheel, and by looking through the windshield on the driver's side of the vehicle. The VIN number may also be found in other locations like in front of the engine block and in the sticker by the driver's side door frame.
Question: What can you look up with a VIN number?
Answer: You can get a vehicle history by VIN or a window sticker by VIN. A VIN number displays a vehicle's year, make, model, engine information, and other specific features. With the VIN, you can verify any open recalls, theft records, odometer rollback, accident history, service history, and many more.
Question: What is the Best VIN check site?
Answer: By providing a VIN number, you can run a paid or free VIN check to see the vehicle history. Verify if it's a stolen car or if the car has some accident records There are online paid and free VIN check sites that easily allow you to check vehicle history by VIN. Some of the best VIN check sites that offer this service include PremiumVIN, Carfax, EpicVIN, Autocheck and many more.
Question: How do I check the VIN number for free?
Answer: You can run a free VIN check to look up a vehicle history and be sure it doesn't have any theft records or salvage titles. You will need to pay to get a detailed vehicle history report that provides comprehensive information about the accident history, service history, and previous owners, as well as information about the mileage history, damages, and loan and lien information.