Window

Sticker
Get Your Original Factory Window Sticker
Accurately Predict the Exact Trim, Packages, or Options of any Car. Get the Original Window Sticker Now
Get an OEM reproduction window sticker for just
$14.99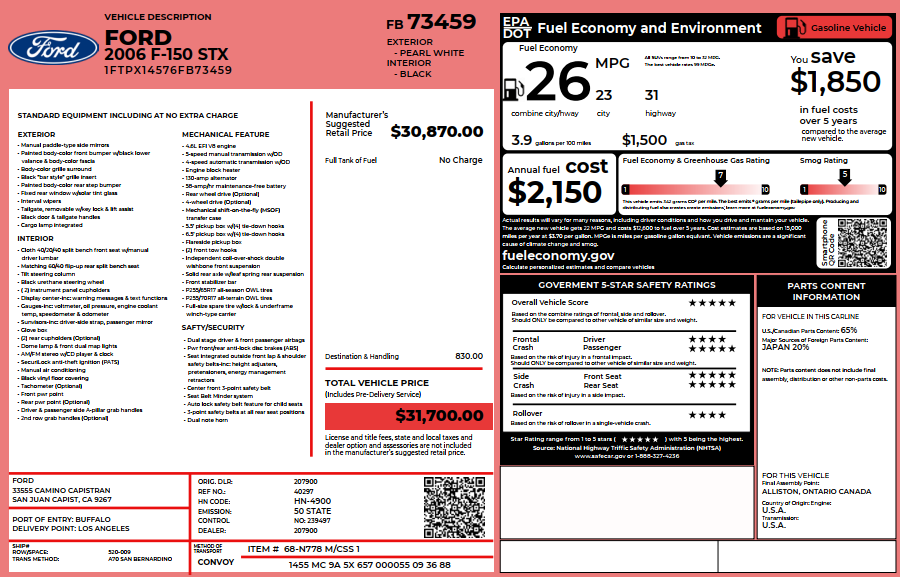 Do you know a window sticker lookup by VIN is an important step of buying a used car that suits your everyday needs?
Our window sticker is a reproduction of the original window sticker by VIN. Get access to the factory options, packages and pricing, MSRP price when new, engine and transmission specifications, standard features and equipment, fuel economy, safety ratings and lots more. Our window sticker is exactly like the one on new cars. It's 100% accurate and very affordable for all classes of customers.
What is a Window Sticker?
A Window Sticker, popularly known as monroney label, is a small label affix to every new car and it is required by law in the US to be displayed on all vehicles, including used vehicles.
An Original Window Sticker Contains the Following Useful Information
Manufacturer's suggested retail price
This is the retail price for which the manufacturer suggests a dealer sell the vehicle which is different from the invoice price.
Vehicle description
A window sticker reveals the make, model, year, and trim of the vehicle. It also lists exterior and interior colors, technical features, original and optional equipment, government ratings and many more.
Warranty information
Find out the vehicle's warranty lengths, roadside assistance packages, and any other manufacturer's offers that may be included in the particular make and model.
Standard and optional equipment
It contains the features and equipment included with the vehicle, such as engine options, tire size, to the most basic safety features like seatbelts.
Safety ratings
Find out results of the National Highway Traffic Safety Administration's New Car Assessment Program (NCAP) if available.
Fuel economy and environment
Find out city, highway, and combined fuel economy ratings and approximated annual fuel costs for the vehicle. This section will also indicate what kind of fuels the vehicle is designed to run on.
QR code
By scanning this QR code with your smartphone, you're directed to the EPA website where you can customize driving stats to see what your fuel economy might be.
Parts content information
Find out information on where the vehicle was assembled, and what percentage of parts used are US/Canadian and foreign.
Original Window Stickers

Samples
Be sure of what to expect. View some of our window sticker samples.
2006 FORD F-150 SUPERCAB 4-WD
VIN: 1FTPX14576FB73459
EXTERIOR - PEARL WHITE
INTERIOR - BLACK
2016 HONDA CR-V 5DR 2WD XL
VIN: 55SWF6EBXGU110456
EXTERIOR - PEARL WHITE
INTERIOR - BLACK
2017 TOYOTA TACOMA
TRD
VIN: 3TMCZ5AN2HM052507
EXTERIOR - BLACK
INTERIOR - GREY
What are the

Benefits of a Window Sticker?
Boost Sales and Profit
As a dealer, presenting window stickers will greatly increase your chances of selling your vehicle as it reduces buyers remorse. A seller can sell faster by providing their buyers with a copy of the original window sticker.
Compliance with State Regulations
Selling a new car at dealerships is against the law without an original window sticker affixed to the vehicle. Getting a window sticker by VIN will ensure you comply with the Automobile Information Disclosure Act of 1958.
Good Pricing Knowledge
Since our window stickers provide you with pricing information, dealers and private buyers can use this knowledge to set or negotiate the standard price for a used vehicle up for sale.
Guarantees Buyer's Satisfaction
Potential buyers can access all the features and options of a car at a glance before any payment. If a payment is eventually made, the seller is certain the new owner is going to be satisfied with all the packages, thus earning some good reviews and recommendations in return.
What information Get from a

Window Sticker

Lookup
Our OEM  window sticker provides the following information:
An Original Window Sticker Contains the Following Useful Information
Lookup a

Window Sticker

for any Manufacturer
What our customers are saying
It will probably be difficult to express how impressed I am with DVH products and services! Based on browsing their website, I took a big leap of faith and ordered two (2) reports which included a vehicle service & history report and a monroney sticker (window sticker)....
Getting the report was pretty easy and straightforward.The report provided the information for me to make a decision on purchasing a car. The report covered all the basics about recalls, accidents, how many owners etc.
The representative was friendly. The window sticker looks great. Wil show it at the Car Shows with my car.
Just purchased a used vehicle and wanted to know options came with it when it was new. Ordered a sticker and it was very helpful. The staff that I contacted was more than helpful. And yes I would definitely use them again.
I asked for a report on a 2002 Ford Taurus, I was going to sell this car and had a buyer request a report, I was surprised with all the detail information from the end of 2001, at the time when it first went in to operation to the last time I had it serviced....
FREQUENTLY ASKED QUESTIONS
How can I get the original window sticker?
You can get a copy of the original window sticker by VIN which contains a wealth of  information about the car before its first use by the buyer. You can also provide the year,make and mode of the car to generate the original window sticker.
Can you get a window sticker from the VIN number?
Yes. A VIN number is able to reveal things about the car that you may not be able to see just by looking at it. Once you enter the VIN into the PremiumVIN window sticker lookup tool,  a copy of the original window sticker will be generated.
Can I get a free Window Sticker?
No. There is no free window sticker lookup tool. Looking up a window sticker by VIN comes at a price. However PremiumVIN offer the service at a very affordable price compared to other providers in the industry
How much does a Monroney sticker cost?
A PremiumVIN window sticker or Monroney sticker cost a one-time fee of $9.99. Enter the VIN number into the OEM window sticker lookup tool to get the original window sticker by VIN. Get access to all VIN-specific features and options on your vehicle.
How do I find the original sticker price of my car?
The original sticker price is generally referred to as the manufacturer's suggested retail price, abbreviated as MSRP. Please be aware that the dealer or seller doesn't have to hold fast to the MSRP when selling the car, although it must be displayed.
Is the window sticker the same as MSRP?
No. Window sticker is a label containing the original features and options that came with the car when it was manufactured. The manufacturer's suggested retail price, or MSRP, is the manufacturer's recommended price for dealerships to sell their vehicles. The final selling price doesn't necessarily have to be exactly the same as the MSRP.