Which one would you prefer? To view a photo of an accidental car or to read a few sentences reporting the impact of the accident? I think everyone would naturally prefer the former because a picture is worth a thousand words.
This is one of the many reasons why you need to run an auction VIN check. With that taken, let's go through the full gist below.
An auction VIN check, similar to a VIN check, can provide you access to the auction records and photos of a used car.
Since finding a good deal on a used car can be very challenging and you could spend hours examining the listings in your local newspaper, you can use an auction VIN check tool online to verify that a vehicle meets your needs and budget within minutes.
Auctions are well-known places to find deals online for used vehicles in the United States, Canada, Europe, and worldwide.
An auto auction offers a huge selection of used cars for sale, with varying conditions – excellent, good, and bad – and at affordable prices.
The auction process involves the participants bidding on a car until one bidder is left.
Many auto auctions are public, which means anyone can come to the event or place a bid online.
Typically, these are announced ahead of time with a list of available vehicles which gives you the opportunity to narrow down your search before the auction day.
So an auto auction could be the answer if you're in the market for a bargain.
According to Yahoo Finance report, fewer new cars were manufactured in 2021 due to the Covid-19 pandemic and prices surged as a result. This in turn made consumer demand for used cars rise.
This has forced the prices of used cars to be up by 39.8% according to the U.S Bureau of Labor Statistics' Consumer Price Index.  
So it's safe to run an auction VIN check in order to avoid the shock that comes with spending thousands of dollars on a car with hidden issues.
Between 2015 and 2018, 40% of the used cars exported worldwide by the European Union, Japan, and the United States went to African countries.
The low prices of these vehicles create high demand for them in Africa and other developing regions, but there is a trade-off to the low cost: they are often poor quality and would fail roadworthiness tests in exporting countries.
Since not all used vehicles fail these tests, checking a car for the auction records and pictures can help you avoid buying cars reported to be banned from the operation on the road.
This will also save you from legal prosecution by the police and other road safety agencies.
Used cars have been finding their way to African markets and this reflects the tremendous growth potential in the market for used cars in the future.
These show that there are millions of vehicles sold on salvage auto auctions.
Each of them has a history that's worth looking into to make sure you know exactly what you're buying.
The great news is that detailedvehiclehistory.com can help you uncover the auction history, including the pictures, of a car before you purchase it – this can save you thousands of dollars.
A simple auction VIN check will help you find out all the major events that happened to a specific vehicle.
Some Benefits Of Running An Auction VIN Check
Here are some of the benefits of running a VIN check:
Detailed vehicle specifications
Running an auction VIN check is the most reliable way to see all the features of a car.
Sometimes a seller will not list all the vehicle's specifications.
With an auction VIN check, you will know facts like the production year, engine power, fuel and transmission type, and more.
Odometer fraud is a global problem when it comes to buying a used vehicle.
Some sellers may roll back the odometer to hide the car's actual mileage.
If you see a relatively lower number, it's a good idea to run an auction VIN check.
You can avoid being fooled by comparing the odometer results from the report to the information from the seller.
Often, salvage cars get damaged as a result of a collision, fire, hail, or flood.
However, you can never know what the vehicle has been through until you run an auction VIN check.
Many vehicles are also listed under the Rebuilt title – which means they were restored and repaired prior to being listed at auction. If you find "Rebuilt" in a car's description, you can find what type of salvage title it had before repair by running an auction VIN check. Check with Premiumvin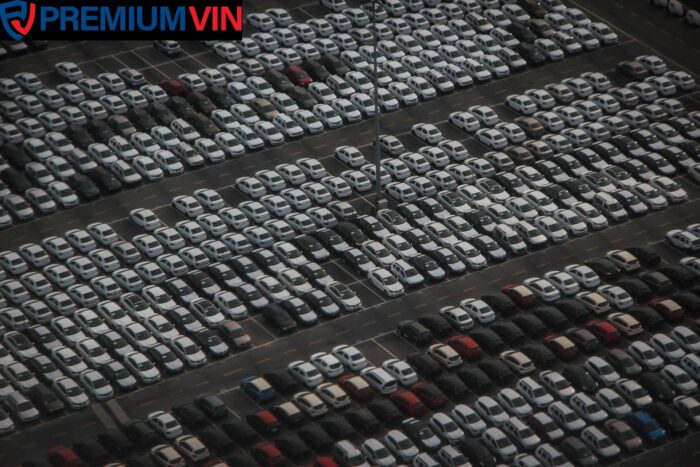 The information you get from running an Auction VIN Check from Premiumvin.com:
Confirm the condition of the vehicle
Does it start? Does the engine work? Does it have keys? Find Title information, the Location of the auction and many more. 
Our photos include Interior, Exterior, Engine details, Odometer and more.
Title & Condition history
Damages and their nature of them, notes and information from the auction or buyer, details on the damages, and estimates on the repairs.
Listing Information & History
Is the auction still active? Sold? Pending? Where is the auction listed and the city-state? Where is the buyer's country? How much was it sold for? All these questions can be answered by running an auction VIN check.
The only way to protect yourself from purchasing a salvage vehicle is by running an auction VIN check from Premiumvin.com.
We collect information about salvage vehicles from reliable sources like the DMV, National Vehicle Service, the NMVTIS, and other agencies. We also use various databases to compose a detailed and comprehensive report for you.
You can also upgrade your auction VIN check report to a full vehicle history report for the lowest price in the industry.
Are you worried about the auction status of a vehicle? Head over to premiumvin.com  to resolve all doubts.