Are you thinking about buying an ATV? Before making your final decision at a used car dealership, make sure you perform an ATV VIN number check to guarantee you are not purchasing a stolen or damaged vehicle. A Vehicle Identification Number (VIN) is a 17-digit code that is unique to each manufactured vehicle, including ATVs. An ATV VIN check will provide information about the vehicle's history, such as ownership, accident records, maintenance history, and others.
In this article, we will highlight seven expert ATV VIN check websites where you can discover thorough and accurate reports on the vehicle's history. Some of these websites even offer free ATV VIN checks with information that can be utilized to make informed decisions.
Top 7 sites to get an expert ATV VIN check
Are you interested in a free ATV VIN check? Or you're more interested in a paid ATV VIN check with high-quality information? If you are, here is a list of the top 7 sites to get an expert ATV VIN check with accurate vehicle history:
PremiumVIN
Detailed Vehicle History
Instant VIN Reports
VINCheck.info
FaxVIN
Carvertical
EpicVIN
PremiumVIN
The top on our list of top ATV VIN check sites is PremiumVIN. PremiumVIN is one of the leading providers of unrestricted access to vehicle history reports. This means that an ATV history report purchased from PremiumVIN never expires. With only a VIN or a US license plate number, the PremiumVIN ATV VIN check tool can decode any ATV VIN and generate an accurate vehicle history report for that vehicle.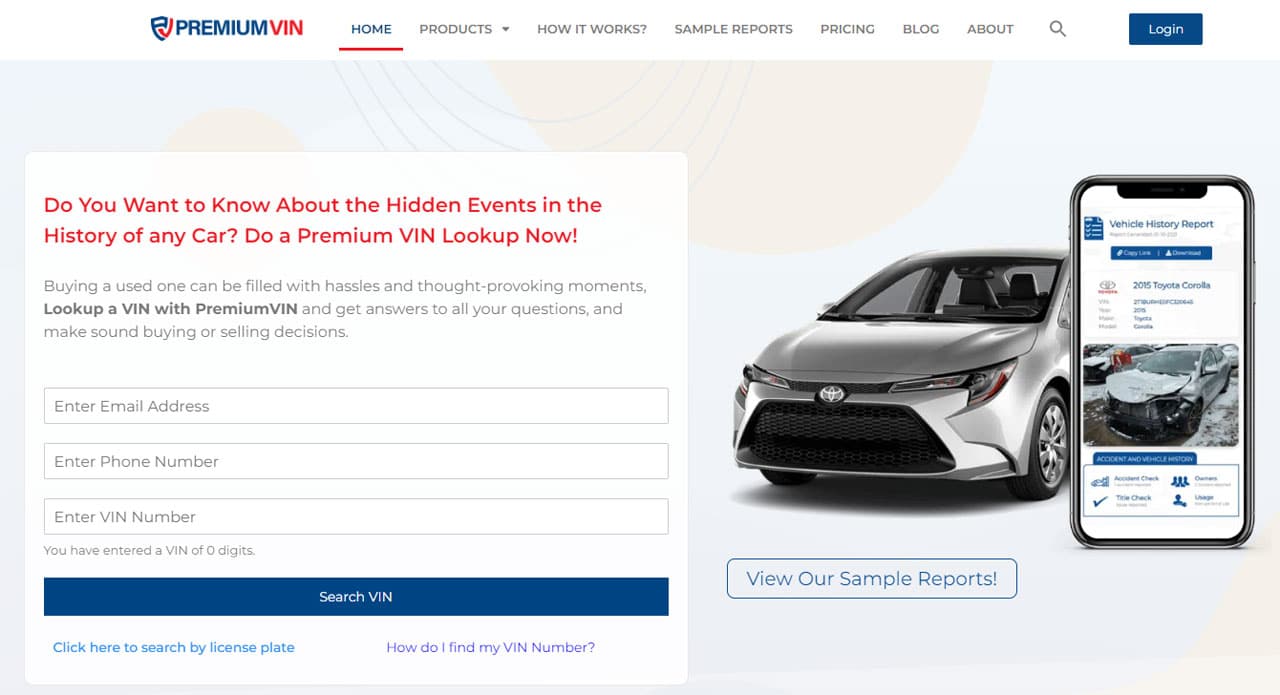 The information provided to customers through a vehicle history report from PremiumVIN includes auction records with photos, auction lemon information, title records, buyback record information, theft records, odometer verification, insurance records, fire damage check, hail damage check, vehicle recalls, and more. PremiumVIN also provides discounts for customers, and with these discounts, you can have an almost free ATV VIN check.
Detailed Vehicle History
Next on our list of expert ATV VIN check sites is Detailed Vehicle History. Detailed Vehicle History has, over the years, provided VIN check and VIN decoding services to automobile buyers, sellers, and owners. If you are interested in a stolen ATV VIN check, you can depend on Detailed Vehicle History to provide the best services and information for you to make the best decision during your car purchase at any used car dealership or private sale.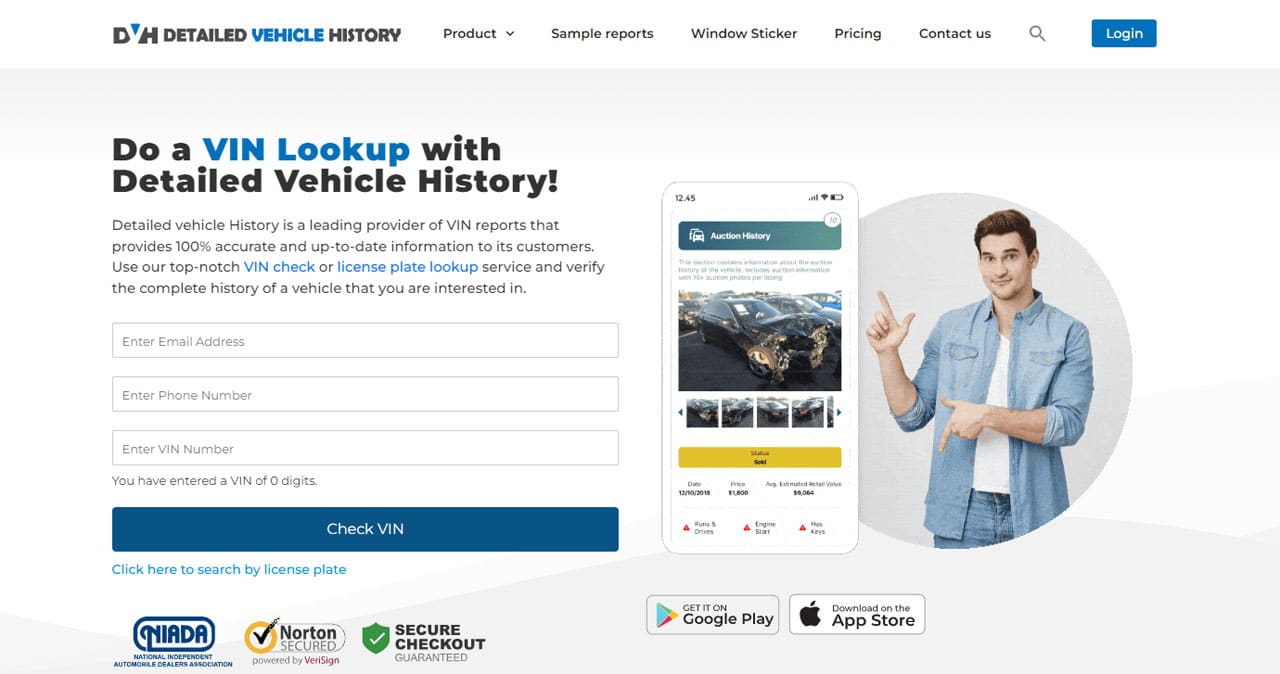 A vehicle history report generated with the ATV VIN number check provides access to accurate accident history, damage history, vehicle specifications, service history, maintenance history, ownership history, theft history, open recalls, lien and loan records, title records, and more. If you are in need of a detailed ATV history report, we would recommend the VIN check tool provided by Detailed Vehicle History. The vehicle history report provider also provides other services for ATVs, such as window sticker generation, VIN decoding, checking for vehicle recalls, checking parts and accessories by VIN, and others.
If you have a classic ATV, you can also run a classic ATV VIN number check with Detailed Vehicle History and generate a concise and comprehensive report for your ATV, since this website's data also covers vehicles manufactured in 1980 and before.
Check out their mobile application with Android and iOS versions here.
ALSO READ: How To Check Car History In Oman: Easiest Ways
Instant VIN Reports
If you are interested in a Honda ATV VIN check, we also recommend the Instant VIN Reports VIN Check tool. With the Instant VIN Reports ATV VIN check tool, you can easily check a vehicle's records before sealing a deal with dealerships or private sellers. A four-wheeler VIN lookup with the Instant VIN Reports tool exposes the hidden secrets of a vehicle to car buyers and sellers.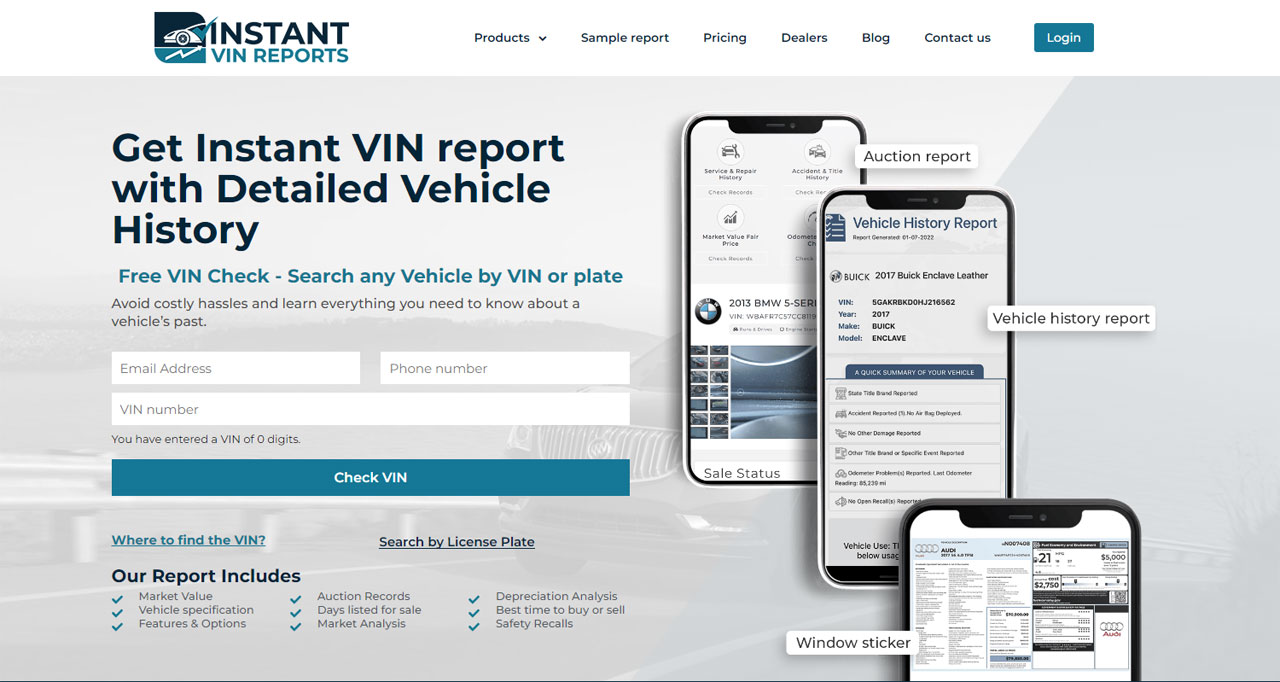 An ATV VIN search with the Instant VIN Reports provides customers with the following information: market value details, vehicle specification, accident history, damage history, service history, maintenance history, theft records, depreciation analysis, open recalls, salvage or rebuilt titles, and more.
Instant VIN Reports also provides other ATV VIN services such as ATV VIN decoding, license plate lookup, window sticker lookup, vehicle recalls lookup, and more.
VINCheck.info
Looking for a free ATV VIN check website? VINCheck.info is the best option on this list to get one. Their ATV VIN check provides the following information: vehicle specifications, safety ratings, equipment details, fuel efficiency, market value, recalls and defects, warranty, sales history, and more. These details protect consumers from fraud and scams and help them make the best decisions.
Some of the services available to ATV buyers include:
Free ATV VIN decoding.
Free ATV VIN number check.
Free license plate lookup.
Free ATV manufacturer manuals.
ATV sale history.
FaxVIN
FaxVIN gives clear and concise documentation of ATV history data and specifications. They cover both large and small damages, accident histories, inspection findings, mileage and odometer readings, auction histories, and so on in their reports.
The vehicle history provider is known to generate ATV VIN reports at a low cost for both individual ATV buyers and automotive businesses. To obtain a car history report from FaxVIN, go to the company's website and enter your 17-character VIN number. You will then be able to view your ATV's history.
ALSO READ: How To Decode A Motorcycle VIN Number: Simple & Easiest Ways
CarVertical
CarVertical is one of the top websites providing car buyers with vehicle history records and delivering fundamental car information with high accuracy. CarVertical offers high-quality service histories, damage histories, mileage readings, and other vehicle information to car buyers or sellers. The information provided by a VIN lookup for ATVs can be used by car buyers to make the best choices at dealerships.
A car is also assigned a score between 1 and 10 using the Carvertical scoring system. This score is based on three key criteria for the vehicle: damage data, mileage records, and model flaws. This grading approach may be quite useful for people who have a large range of vehicles to choose from. Simply compare the automobile ratings to make an informed decision and choose the most dependable vehicle.
EpicVIN
EpicVIN is another good website to get a free ATV VIN check. With EpicVIN, ATV buyers can gain access to past odometer readings, theft history, hidden damages, vehicle specifications and technical data, lien and loan records, photos of previous sales and sales history, and more. With EpicVIN, you can be sure your ATV is in good shape before purchase. The vehicle history report provider EpicVIN works with over 70 databases and offers extensive history reports.
EpicVIN also provides the following services: a free ATV VIN decoder, a free ATV VIN check by state, a free flood check, a free odometer check, a free license plate lookup, a free Chrome extension, and more.
These are our top recommendations for car buyers seeking to purchase reliable ATVs at dealerships. An all-terrain vehicle has to have high performance and reliability, and with a VIN check from any of these websites, car buyers are given the opportunity to make the best decisions from the information provided by detailed ATV vehicle history reports.
How to check an ATV VIN number?
To check an ATV VIN number to get a vehicle history report, simply follow these steps:
Locate the Vehicle Identification Number (VIN) of your ATV. The VIN on an ATV is usually 17 characters or less and can be found on the front left wheel well or the back left lower frame rail.
Select your preferred vehicle history report provider and visit their website.
Navigate to their ATV VIN check tool.
Enter your ATV VIN and initiate the search.
That's all you need to do to get an ATV VIN number check and generate a vehicle history report. Be aware that, on this list, only PremiumVIN, Detailed Vehicle History, and Instant VIN Reports provide vehicle history reports for classic vehicles and ATVs with less than 17 characters in the VIN.