When a car is purchased from the manufacturer, there is usually a lot of paperwork. Some you may understand, and others you just dump in the garage.
One of the most popular documents that get discarded or misplaced is the build sheet. After the build sheet becomes unavailable due to several factors, how can you get a build sheet from the VIN number? This article explains how to.
What is a Build Sheet: How to Get a Build Sheet from VIN?
A build sheet is a document that contains information about the equipment, and options a vehicle was manufactured with. The build sheet shows exactly what went down the line when the vehicle was manufactured and typically includes details such as the make and model of the vehicle, the trim level, the engine and transmission options, and any additional features or packages that were added at the factory.
Build sheets also include information about the vehicle's color, interior trim, and other options that were selected during the ordering process. These documents are more frequently used by dealerships and manufacturers to track the production of a vehicle whenever the need arises, but there comes a time in a car owner's life when he may need the build sheet and the information it holds.
Many people, on several occasions, assume build sheets to be window stickers and vice versa. They look similar, but are they the same? Soon enough, we will highlight the difference between a build sheet and a window sticker.
Can I Get a Build Sheet from a VIN Number?
Yes, you can get a build sheet from a VIN number and there are several ways to do that. The only problem is that build sheets are not as easy to find as they used to be. Now, build sheets are mostly described as the "holy grail" of collectors and vehicle owners. There are several ways to get a build sheet from a VIN number and, who knows, you just might stumble across one.
Usually, if you would like to get a vehicle build sheet by VIN number, these are the routes you may follow
Contact your manufacturer
If anyone should be able to hand you a build sheet by VIN, it should be your manufacturer. Some manufacturers, such as Chevrolet, Ford, and Dodge, may be able to provide you with a build sheet if you request one. You will be required to provide the Vehicle Identification Number of your car, and some proof of identification, a government-issued ID would do.
Contact the dealership
Although it is quite rare to get a build sheet by VIN from dealerships at the time, it is not impossible. They just may have a copy of your vehicle's build sheet.
Other routes include car forums and third-party sites, but you may not want to get your hopes up.
What is an Alternative to Build Sheets?
Window stickers. A window sticker contains every detail you can find in a build sheet and more. Window stickers are labels containing the vehicle specifications, Manufacturer's suggested retail price (MSRP), standard and optional equipment, fuel economy, safety ratings, vehicle identification number (VIN), manufacturer's name and contact information, destination and delivery charge, emissions information and ratings, warranty Information, dealer Information, dealer-added options or packages, rebates and incentives, color and trim level, and more.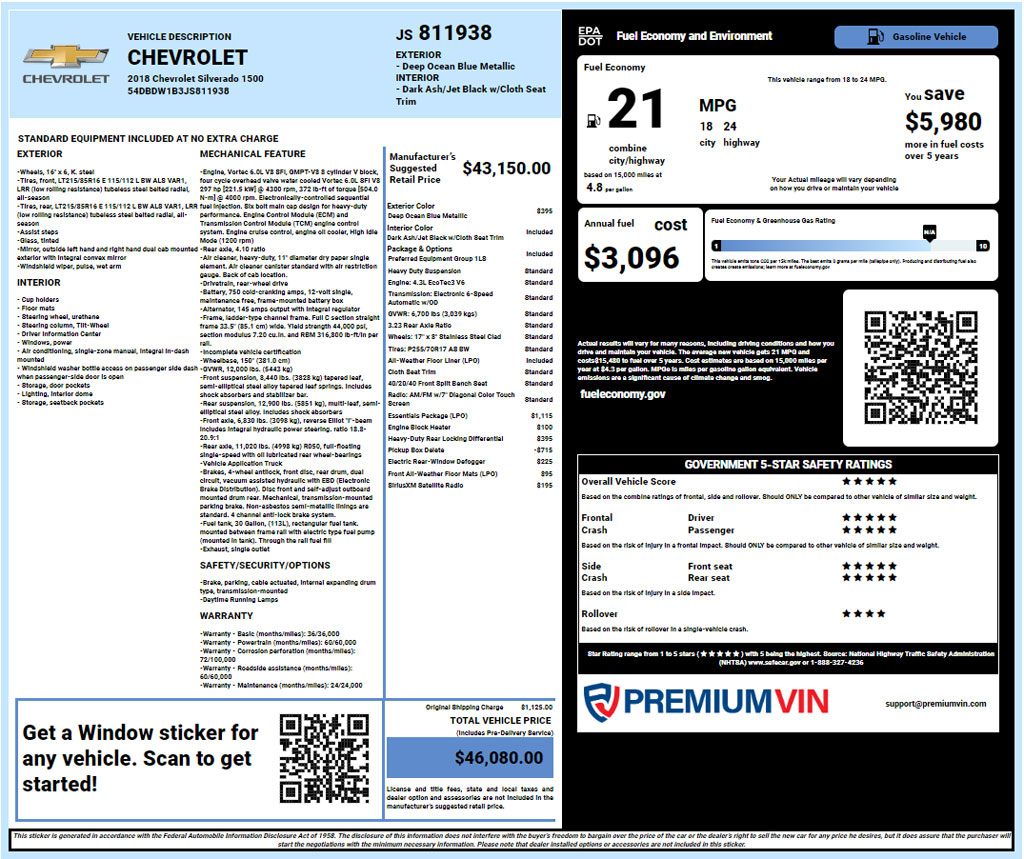 It is recommended that you get a window sticker for your vehicle instead of trying to find a build sheet by VIN. Window stickers for both regular cars and classic vehicles can be gotten from the vehicle history report company, Premium VIN.
Why Do I Need to Get a Build Sheet by VIN?
Build sheets and window stickers are of great importance to car owners, dealers, and manufacturers. Some of the benefits of having these documents include:
To confirm the original specifications:
Build sheets and window stickers can be useful when it comes to providing detailed information about the options and features that were included originally by the manufacturer. The original specifications such as the make, model, year, trim level, and other vehicle specifications.
READ ALSO: How To Check For Rust On A Used Car? Step-by-Step Guide
To verify the authenticity of a vehicle
Build sheets and window stickers from PremiumVIN can help determine if a vehicle has been modified, or rebuilt. When a classic vehicle, "antique", has its specifications, features, and ratings matching the specifications displayed on the window sticker or build sheet, that classic vehicle may be sold at a much higher price.
If you are in the market for a used vehicle, window stickers provide complete information about vehicles in one glance and they aid you in making informed decisions and leave you with a reliable vehicle to work with.
To assist with repairs
Window stickers provide OEM information about the vehicle parts from interior and exterior features to engine specifications. If a vehicle needs to be repaired after an accident or damage, having a document that shows the specifications of the vehicle comes in handy.
Window stickers can be gotten from various sources: manufacturers, dealerships, and vehicle history report companies. You can get a window sticker for your vehicle from Premium VIN from the comfort of your home and it will be delivered straight to you via email.
Here are some sample window stickers from PreviumVIN.