Used cars, vehicles, trucks, motorcycles, and any used vehicle in a dealership could have a hidden defect or damage, and you just can't be sure from its appearance. You have to take a deep dive into a vehicle's history to see if it's reliable enough, roadworthy, and still has standard safety features in good shape. If you are a first-time car buyer interested in purchasing an RV, then it's best to be cautious enough to get a vehicle history report for that truck.
In this article, we will discuss how to get an RV vehicle history report and some other steps to follow to purchase a really good and reliable vehicle.
What is a Vehicle History Report?
The first step to understanding how to get an RV vehicle history report is to understand what a vehicle history report is and why it is necessary to get one. When vehicles are manufactured, they are usually assigned a code referred to as the Vehicle Identification Number (VIN).
This code is usually 5–17 characters long, depending on the vehicle's year of manufacture, and every vehicle has one. The VIN identifies a vehicle and is used to document information about the vehicle throughout its lifespan. In other words, every piece of information, record, and history on any vehicle can be accessed when a VIN is decoded. With this VIN, you can find accident records, damage records, sales records, service history, and more.
Now that we know what a vehicle history report is, let's take a look at the steps you need to take to get one for the RV you are interested in buying.
A step-by-step guide on how to get an RV vehicle history report?
There are some online marketplaces where you can get a free report during a car purchase such as Find Used Online. However, this is not the case everywhere. Knowing the history and records of any vehicle is one of the easiest ways to determine its reliability and performance.
To get an RV or camper history report, simply follow these steps:
Choose a reputable provider.
Locate the recreational vehicle's VIN.
Order the report.
Choose a Reputable Provider
To get a detailed, concise, and comprehensive report, you need to know where to look. CarFax is one of the oldest in the business and is really popular when it comes to vehicle history reports. However, Carfax's vehicle database only includes data for cars and light trucks and may not be able to decode RV VINs, campers, trailers, motorhomes, and the like. This is where the reliable vehicle history report provider, PremiumVIN, comes in.
PremiumVIN is one of the leading providers of concise vehicle history reports and has, over the years, provided accurate vehicle information to several customers and dealerships. With their wide database, they have records on cars, motorcycles, RVs, trucks, trailers, and more. For maximum and complete information, we would recommend PremiumVIN. The information provided after a PremiumVIN VIN check includes:
Accurate vehicle specifications
Accident records
Damage history
Auction history with more than 10 photos
Sales history
Theft records
Lien and loan records
Service history
Maintenance history
Recall history, and more.
PremiumVIN also provided free RV VIN decoding, window sticker lookup, VIN check, VIN lookup, license plate lookup, camper title search, recall check, and more.
Locate the Recreational Vehicle's VIN
The next step to getting an RV vehicle history report is to locate the VIN number of your RV. For regular vehicles, you can find the VIN number on the vehicle's dashboard and by the driver's side door. But in trailers, recreational vehicles, and fifth wheels, the VIN can be found on other vehicle parts. To locate the VIN in an RV, you can check:
The metal plate near the tongue
Near an axle on the frame
Certificate of title
Bill of sale
Other registration documents
After identifying the VIN of the RV, you can now proceed to generate an RV vehicle history report.
Order the report
Now that you have the VIN, simply visit the PremiumVIN website and navigate to the VIN check tool. There you will find a form, and you must make sure that the correct VIN is entered. You may need to provide your email address and other information before the RV VIN check. After filling out the form, select "Search VIN," and you will receive your vehicle history report as soon as you complete the payment process.
Now that you have a detailed and concise vehicle history report in your hands, you can tell if the vehicle is the most reliable for you or not.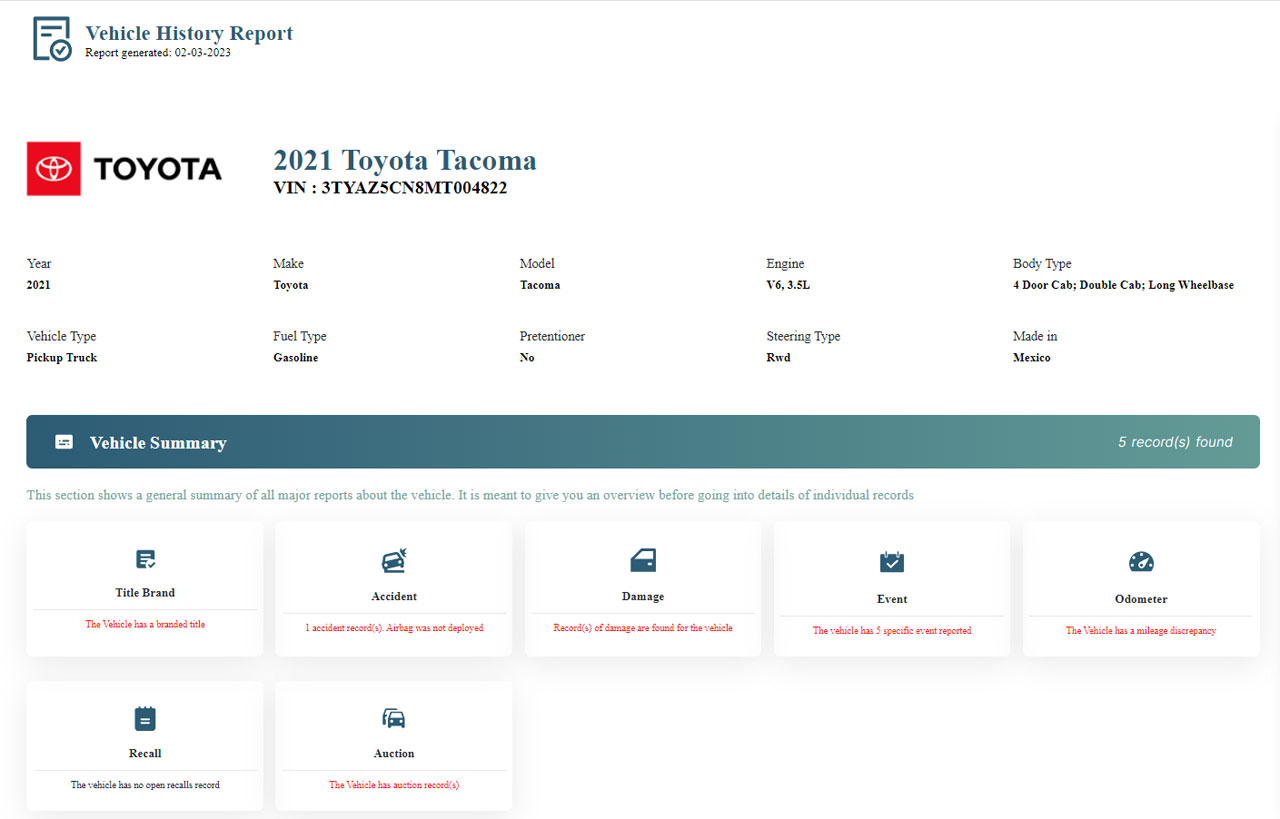 A vehicle history report from PremiumVIN is a great way to gain access to accurate vehicle information. However, a camper history report or trailer history report is not enough to make the right choices at a dealership. Before paying for that motorhome, you need to schedule a vehicle inspection so that you can be sure everything is in good condition.
If you have a good idea of RVs, you can carry out this inspection yourself; otherwise, it'll be best to hire a professional mechanic to carry out a pre-purchase inspection. This would typically require a fee of around $100 to $200 in the US, but it will save you a lot of money that could be spent on repairs in the future.
ALSO READ: Freightliner Warranty Check By VIN | Check it out now!
Frequently Asked Questions