Toyota Window Sticker Lookup
Get the original specifications, features, options and packages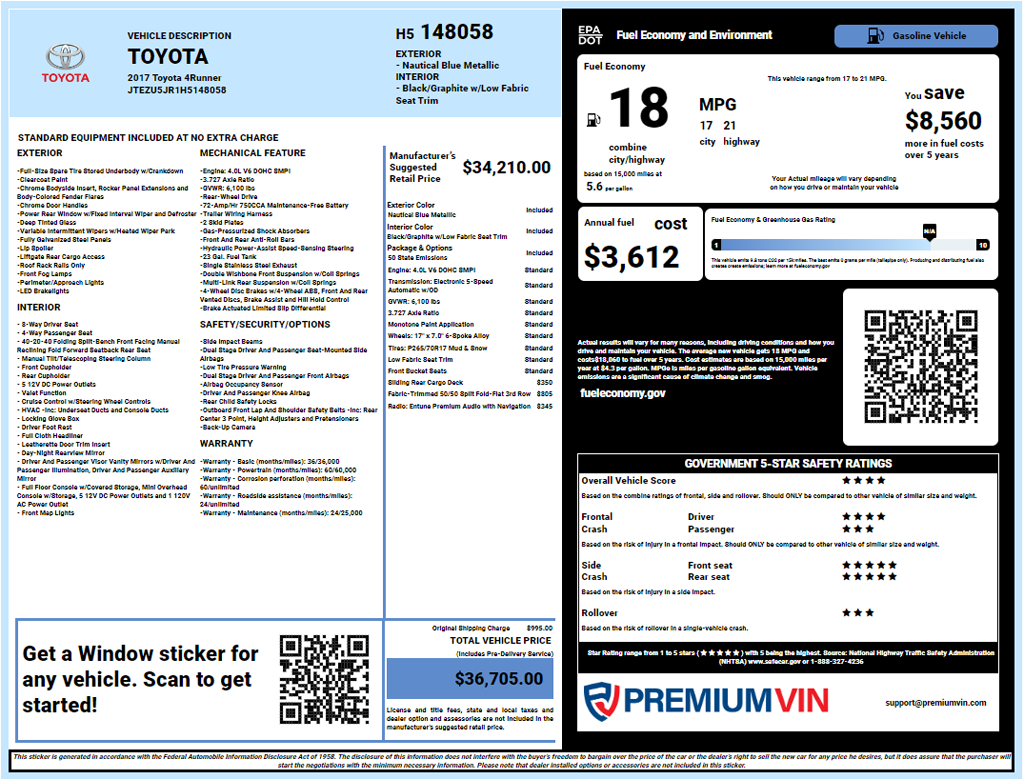 Are you in the market for a new or pre-owned car? Then you need to check out the Toyota Window Sticker Lookup tool!
Toyota Window Sticker Lookup by VIN number is the easiest way to find out essential information about a car. With just a few clicks you can find out the car's MSRP, factory options, and safety features. You can also access the car's history report to make sure it's in good condition.
Don't waste time going from dealer to dealer trying to get the information you need. Toyota VIN Decoder Window Sticker has everything you need in one place. With a simple search, you can make sure you're getting a great deal on the car of your dreams.
Don't wait any longer. Check out the Toyota Window Sticker By VIN tool today and find the perfect car for you!
The Information You Will Find On The Toyota Window Sticker
The Toyota window sticker (also known as the Monroney label) includes information about the vehicle, such as the vehicle's make, model, trim level, engine, and transmission, as well as its standard and optional features. It also includes information about the manufacturer's suggested retail price (MSRP) and the destination charge. It also includes information about the EPA fuel economy estimates, safety ratings, and warranty coverage.
2006 FORD F-150 SUPERCAB 4-WD
VIN: 1FTPX14576FB73459
EXTERIOR - PEARL WHITE
INTERIOR - BLACK
2016 HONDA CR-V 5DR 2WD XL
VIN: 55SWF6EBXGU110456
EXTERIOR - PEARL WHITE
INTERIOR - BLACK
2017 TOYOTA TACOMA
TRD
VIN: 3TMCZ5AN2HM052507
EXTERIOR - BLACK
INTERIOR - GREY
How Does Toyota Window Sticker Increase Sales Conversion?
Toyota window stickers report can be powerful for increasing sales conversion by providing customers with key information about a vehicle. By including important details like the MSRP, features, safety ratings, fuel economy, and other essential details, potential buyers can make a more informed decision about whether or not to purchase a vehicle.
The window sticker PDF report also serves as a reminder of the vehicle's attributes and can make a vehicle more attractive when compared to others in the same class. Additionally, the window sticker can be customized to feature special offers and incentives that can be used to entice customers to make a purchase.
Lookup a Window Sticker for any Manufacturer
What our customers are saying
It will probably be difficult to express how impressed I am with DVH products and services! Based on browsing their website, I took a big leap of faith and ordered two (2) reports which included a vehicle service & history report and a monroney sticker (window sticker)....
Getting the report was pretty easy and straightforward.The report provided the information for me to make a decision on purchasing a car. The report covered all the basics about recalls, accidents, how many owners etc.
The representative was friendly. The window sticker looks great. Wil show it at the Car Shows with my car.
Just purchased a used vehicle and wanted to know options came with it when it was new. Ordered a sticker and it was very helpful. The staff that I contacted was more than helpful. And yes I would definitely use them again.
I asked for a report on a 2002 Ford Taurus, I was going to sell this car and had a buyer request a report, I was surprised with all the detail information from the end of 2001, at the time when it first went in to operation to the last time I had it serviced....
Frequently Asked Questions
To get the original window sticker for a Toyota vehicle, you will need to contact your local Toyota dealership. The dealership should be able to provide you with a copy of the original window sticker. Alternatively, you can our Toyota window sticker by VIN tool.
You can get a free Toyota window sticker by VIN number by visiting the PremiumVIN website. On the website, you can enter your VIN number and the window sticker will be generated for you. But the full report is not free.
To check the window sticker of a Toyota vehicle, you will need to locate the Vehicle Identification Number (VIN) of the vehicle. This is typically located on the driver's side dashboard, door jamb, windshield, or in the glove compartment. Once you have located the VIN, you can enter it into the PremiumVIN website to view the window sticker for the vehicle.
Toyota is a multinational automotive company headquartered in Toyota City, Japan. The company was founded in 1937 by Kiichiro Toyoda as a spinoff from his father's company, Toyota Industries.
Toyota is known for producing a wide range of vehicles, including cars, trucks, buses, and SUVs. The company is particularly well-known for its fuel-efficient and reliable cars, such as the Corolla and Camry sedans. Toyota also produces luxury vehicles under its Lexus brand and hybrid and electric vehicles, such as the Prius.
In terms of market capitalization, Toyota is one of the largest companies in the world. As of March 2, 2023, Toyota's market cap was approximately $229.5 billion USD. The company has a strong presence in many global markets, including North America, Europe, Asia, and Australia.
Toyota is also known for its innovative manufacturing processes and production systems. The company's "Toyota Production System" is widely regarded as one of the most efficient and effective manufacturing systems in the world, and has been studied and emulated by many other companies.
Overall, Toyota has established itself as a leading player in the global automotive industry, with a strong reputation for quality, reliability, and innovation.
Get Window Stickers for the Following GMC Models
Toyota Camry
Toyota Corolla Altis
Toyota Vios
Toyota Wigo
Toyota Yaris
Toyota FJ Cruiser
Toyota Fortuner
Toyota Rush
Toyota Prado
Toyota Rav4
Toyota Land Cruiser
Toyota Avanza
Toyota Avanza Veloz
Toyota Innova
Toyota Wish
Toyota Alphard
Toyota Previa
Toyota Hiace
Toyota Hilux
Toyota FT-86 G Sports Concept
Toyota FT-CH Concept
Toyota Prius C concept
Toyota Sports EV Twin
Toyota Yaris HSD Concept
Toyota FT-1
Toyota Sequoia
Toyota Avensis
Toyota bB
Toyota Comfort
Toyota Porte
Toyota Sienna
Toyota Noah
Toyota Ipsum
Toyota Tacoma
Toyota Prius
Toyota 86
Toyota Aygo
Toyota Brevis
Toyota Aurion
Toyota Allion
Toyota Etios
Toyota ist
Toyota Mark X
Toyota Avalon
Toyota Crown
Toyota Belta
Toyota Auris
Toyota Vitz
Toyota Matrix
Toyota Century
Toyota Highlander
Toyota iQ
Toyota Premio
Toyota Vios Exclusive 2016
Toyota Land Cruiser 200
Toyota Venza
Toyota Tundra
Toyota Condor
Toyota Isis
Toyota Ractis
Toyota Raum
Toyota Sienta
Toyota Verso
Toyota Calya (also called Daihatsu Sigra)
Toyota Coaster
Toyota Prius C
Toyota Sai
Toyota Sera (1990-1995)
Toyota Paseo (1991-1999)
Toyota Tercel (1978-1999)
Toyota Starlet (1973-1999)
Toyota Celica
Toyota Supra
Toyota Prius Plug-in Hybrid
Toyota RSC
Toyota Celica XX
Toyota QuickDelivery
Toyota Hilux Surf
Toyota Probox
Toyota Origin
Toyota TS010
Toyota Stout
Toyota Starlet Glanza
Toyota Succeed
Toyota Carina ED
Toyota Crown Comfort LPG
Toyota SA
Toyota Crown Comfort
Toyota Mega Cruiser
Toyota Soarer
Toyota Chaser
Toyota Vanguard
Toyota Mark X ZiO
Toyota Land Cruiser Prado
Toyota TownAce
Toyota Vista
Toyota Motor Triathlon Race Car
Toyota Gaia
Toyota GT-One
Toyota Starlet GT Turbo
Toyota Crown Majesta
Toyota Celica GT-Four
Toyota Cresta
Toyota Pod
Toyota Carina
Toyota MR2
Toyota FT-HS
Toyota AE85
Toyota G1
Toyota Trekker
Toyota Opa
Toyota Sprinter
Toyota Revo
Toyota RAV4 EV
Toyota Yaris Verso
Toyota Corona
Toyota Publica
Toyota Carina
Toyota Corona EXiV
Toyota Classic
Toyota i-unit
Toyota 2000GT
Toyota T100
Toyota Kijang
Toyota Platz
Toyota Grand Hiace
Toyota Camry TS-01
Toyota eCom
Toyota Progrès
Toyota Corolla
Toyota Voltz
Toyota Carina II
Toyota Hybrid X
Toyota LiteAce
Toyota 4500GT
Toyota Corolla Verso
Toyota Mark II Blit
Toyota Limo
Toyota Verossa
Toyota FTX
Toyota Sportivo Coupe
Toyota AA
Toyota Dyna
Toyota Regius
Toyota Camry Solara
Toyota Camry Hybrid
Toyota Curren
Toyota MasterAce
Toyota Sports 800
Toyota 4Runner
Toyota Caldina
Toyota Granvia
Toyota Cressida
Toyota Prius v
Toyota Mark II
Toyota WiLL
Toyota Window Sticker Lookup