Ford Window Sticker Lookup
Get the original specifications, features, options and packages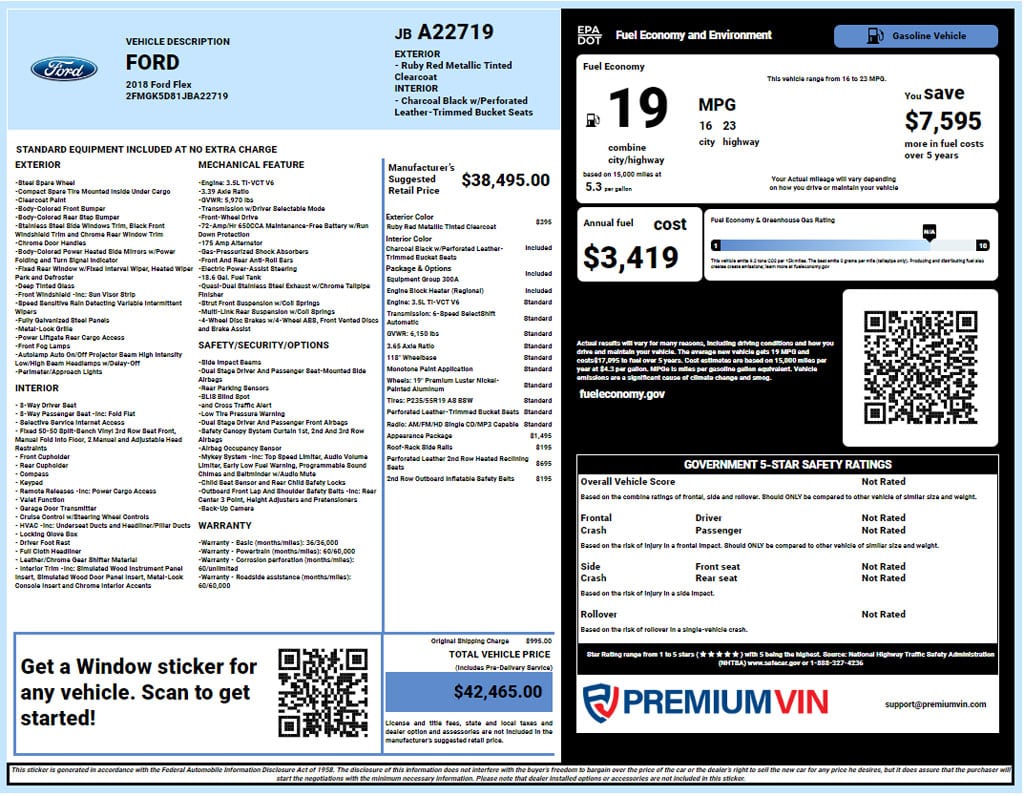 Are you in the market for a Ford car, truck, or SUV? Look no further! Introducing the Ford Window Sticker Lookup tool—the easy, comprehensive way to find the perfect vehicle for your needs.
The PremiumVIN's Ford Window Sticker Lookup by VIN makes it simple to access the most important details about any Ford car, truck, or SUV. All you have to do is enter the vehicle identification number (VIN) and you'll get all the essential information in one place.
Get a complete overview of the car, truck, or SUV you're interested in. Check out the list price, MPG, standard and optional features, engine specifications, and more. You can even access the original window sticker to see all the information that was included when the vehicle was first sold.
Don't wait—start using Ford Window Sticker by VIN today and find the perfect Ford car, truck, or SUV for you!
The Information You Will Find On The Ford Window Sticker
The window sticker for a Ford vehicle will provide a great deal of information about the vehicle. It will include the make and model of the vehicle, the trim level, the engine size and type, the transmission type, the exterior and interior color, the standard and optional features, the MSRP (Manufacturer's Suggested Retail Price), and any additional dealer-added options and their associated costs.
It will also include the EPA ratings for fuel economy and emissions. Any warranties or extended service plans will also be listed.
2006 FORD F-150 SUPERCAB 4-WD
VIN: 1FTPX14576FB73459
EXTERIOR - PEARL WHITE
INTERIOR - BLACK
2016 HONDA CR-V 5DR 2WD XL
VIN: 55SWF6EBXGU110456
EXTERIOR - PEARL WHITE
INTERIOR - BLACK
2017 TOYOTA TACOMA
TRD
VIN: 3TMCZ5AN2HM052507
EXTERIOR - BLACK
INTERIOR - GREY
How Does Ford Window Sticker Increase Sales Conversion?
Ford Window Sticker is designed to provide potential customers with detailed information about the vehicle's features, options, and pricing. This information helps customers make an informed decision about their potential purchase.
The sticker also includes information such as fuel economy, vehicle safety ratings, and warranty coverage. By providing customers with this information upfront, Ford Window Sticker can increase sales conversion by helping customers make more informed decisions and feel more confident in their purchases.
It also helps customers compare vehicles more easily and identify the features they value the most.
Lookup a Window Sticker for any Manufacturer
What our customers are saying
It will probably be difficult to express how impressed I am with DVH products and services! Based on browsing their website, I took a big leap of faith and ordered two (2) reports which included a vehicle service & history report and a monroney sticker (window sticker)....
Getting the report was pretty easy and straightforward.The report provided the information for me to make a decision on purchasing a car. The report covered all the basics about recalls, accidents, how many owners etc.
The representative was friendly. The window sticker looks great. Wil show it at the Car Shows with my car.
Just purchased a used vehicle and wanted to know options came with it when it was new. Ordered a sticker and it was very helpful. The staff that I contacted was more than helpful. And yes I would definitely use them again.
I asked for a report on a 2002 Ford Taurus, I was going to sell this car and had a buyer request a report, I was surprised with all the detail information from the end of 2001, at the time when it first went in to operation to the last time I had it serviced....
Frequently Asked Questions
Ford Motor Company is an American multinational automaker that was founded by Henry Ford in 1903. The company is based in Dearborn, Michigan, and is currently one of the largest automobile manufacturers in the world.
Ford primarily focuses on producing and selling a wide range of vehicles, including cars, trucks, SUVs, and commercial vehicles. Some of their most popular models include the Ford Mustang, F-150, Explorer, and Escape.
The company has a long history of innovation and has been responsible for many industry firsts, including the development of the assembly line and the introduction of the first affordable automobile, the Model T, in 1908.
As of February 25, 2023, Ford's market capitalization is approximately $76 billion. The company has operations in numerous countries around the world and sells its vehicles through a network of dealerships and retail outlets.
In recent years, Ford has placed a greater emphasis on developing electric and hybrid vehicles, as well as autonomous driving technologies. The company has also announced plans to invest heavily in electric vehicle production, with a goal of having electric vehicles account for 40% of its global sales by 2030.
Overall, Ford has a rich history and continues to be a major player in the global automotive industry, with a focus on innovation and technology to meet the evolving needs of its customers.
Get Window Stickers for the Following Ford Models
Ford EcoSport
Ford Everest
Ford Expedition
Ford Explorer
Ford C-MAX
Ford Fiesta
Ford Focus
Ford Fusion
Ford Mustang
Ford Ranger
Ford Escape
Ford Interceptor
Ford Indigo
Ford GT90
Giugiaro Ford Mustang
Ford Fairlane
Ford FX-Atmos
Ford Evos
Ford Cirrus
Ford Atlas
Ford Airstream
Ford 021C
Ford B-Max
Ford Bronco
Ford Falcon
Ford Ikon
Ford Galaxy
Ford Edge
Ford Aerostar
Ford Territory
Ford Corsair
Ford Ka
Ford Model T
Ford Courier
Ford Mondeo
Ford Torino GT
Ford Torino
Ford Edsel Ranger
Ford Figo
Ford Focus RS
Ford SVT Focus
Ford Taurus
Ford Pinto
Ford Crown Victoria
Ford Edsel Villager
Ford Blush
Ford S-Max
Ford Flex
Ford Kuga
Ford Bronco II
Ford Cargo
Ford F-Series
Ford E-Series Wagon
Ford Explorer Sport Trac
Ford LCF
Ford Super Duty
Ford Transit
Ford Transit Connect
Ford Windstar
Ford Lightning
Ford Ranchero
Ford Country Squire
Ford Scorpio
Ford Taurus X
Ford Tempo
Ford EXP
Ford GT40
Ford Windstar
Ford Model A
Ford New Explorer
Ford Galaxie 500
Ford Cortina Perana Mk 2
Ford Granada Perana
Ford Model C
Ford Pampa
Ford 999
Ford F-Series Super Duty
Ford Escape Hybrid
Ford Taurus SHO
Ford Zephyr
Ford Probe
Ford AU Falcon
Ford Prefect
Ford Mustang Mach 1
Ford Freestar
Ford Escort RS Cosworth
Ford Mustang FR500
Ford Del Rey
Ford 7Y
1960 Ford
Ford Escort RS 1700T
Ford John Goss Special
Ford XY Falcon GT
Ford CX
Ford C1 platform
Ford Mainline
Ford C-Series
Ford LTD II
Ford Focus RS WRC
Ford Puma
Ford Crown Victoria Police
Interceptor
Ford Pronto
Ford Transcontinental
Ford GTHO Phase III
Ford Rheinland
Ford XR Falcon
Ford Del Rio
Ford Meteor
Ford 300
Ford Saphire
Ford Elite
Ford XY Falcon
Ford Galaxie 500XL
Ford XM Falcon
Ford Five Hundred
Ford Model C Ten
Ford F-650
Ford Galaxie
Ford Tourneo Connect
Ford Anglia
Ford Forty-Nine
Ford XE Falcon
Ford XA Falcon
Ford XW Falcon
Ford BF Falcon
Ford Meteor Rideau
Ford Fiesta RS Turbo
Ford Fairlane 500 Skyliner
Ford Pilot
Ford Capri Perana
Ford 7W
Ford Durango
Ford Cortina XR6 Interceptor
Ford Landau
Ford Cougar
Ford XK Falcon
Ford Starliner
Ford LTD
Ford XL Falcon
Ford Comète
Ford Fairmont
Ford Sapphire Cosworth
Ford LTD Crown Victoria
Ford Shelby Cobra
1932 Ford Model B
Ford Escort ZX2
Ford Ranchero Rio Grande
Ford Bantam
Ford Nasim
Ford California Special Mustang
Ford Granada
Ford Fairmont GT
Ford XP Falcon
Ford EA Falcon
Ford Torino Talladega
Ford P68
Ford Ranch Wagon
Ford Futura
Ford Model TT
Ford Parklane
Ford Vedette
Ford Shelby Cobra Concept
Ford GPA
Ford Corcel
Ford Classic
Ford Orion
Ford Model 91
Ford Lotus Cortina
Ford Cortina
Ford FG Falcon
Ford Boss 429
Ford Boss 302 Mustang
Ford XF Falcon
Ford BA Falcon
Ford Eifel
Ford F-350
Ford Thames 400E
Ford Tourneo
Ford RS200
Ford Model AA
Ford XC Falcon
1957 Ford
Ford Falcon XR6 Turbo
1949 Ford
Ford Crestline Skyliner
Ford Versailles
Ford Capri
Ford E83W
Ford F-250 Super Chief
Ford Escort Mk1 Perana
Ford Verona
Ford Telstar
Ford Popular
Ford Model F
Ford Escort Mk3 Perana
Ford Escort
Ford Model K
Ford Falcon Cobra
Ford Custom
Ford Custom 500
Ford Fairlane Crown Victoria Skyliner
Ford Thames 300E
1955 Ford
Ford Sierra RS Cosworth
Ford Köln
Ford Contour
Ford F-550
Ford Fordor
Ford Freestyle
Ford Sierra
Ford Maverick
Ford XB Falcon
Ford Thames Trader
Ford Sierra XR8
Ford Ranger EV
Ford Model 48
Ford Thunderbolt
Ford EL Falcon
Ford XT Falcon
Ford Torino Cobra
1952 Ford
Ford Mustang Cobra Jet
Ford EB Falcon
Ford Model Y
Ford Mustang Boss 351
1941 Ford
Ford Thunderbird
Ford Model N
Ford GT70
Ford TH!NK
Ford Royale
Ford Falcon GT
Ford Fairlane GT
Ford 2GA
Ford Python Automobile
Ford Mercury Monterey
Ford SYNus
Ford Squire
Ford Maruti Versa
Ford Thames 307E
Ford Shelby Mustang
Ford Country Sedan
Ford GT
Ford Window Sticker Lookup