Hyundai Window Sticker Lookup
Get the original specifications, features, options and packages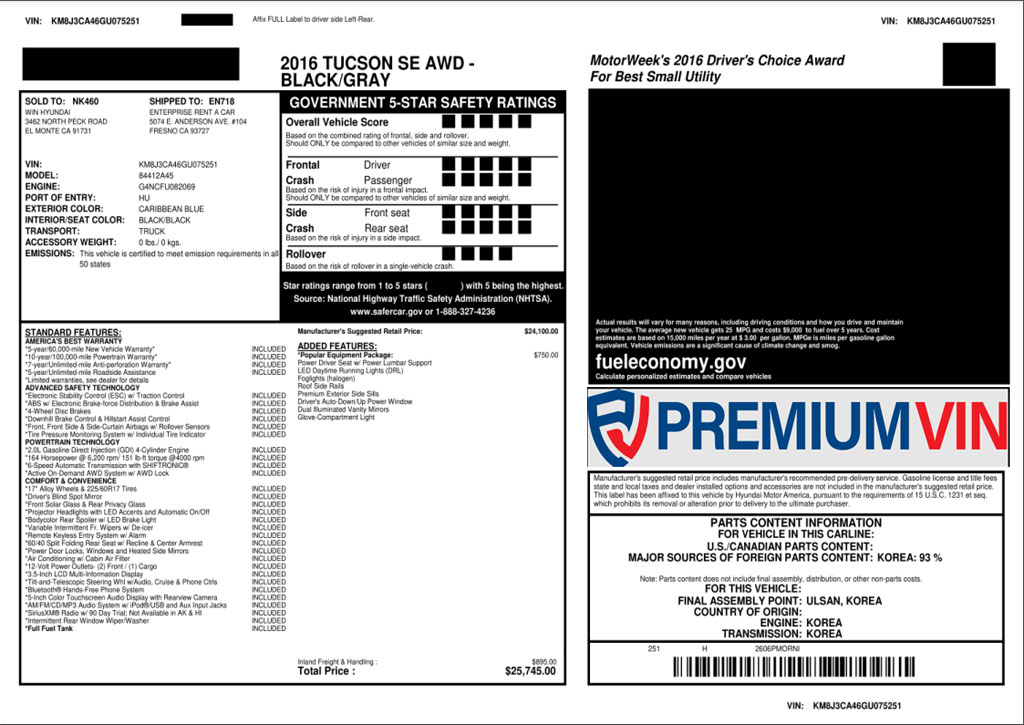 Are you looking to purchase a used Hyundai vehicle, but unsure of its features, options, and pricing? Look no further – PremiumVIN's Hyundai Window Sticker Lookup Tool is here to help!
With Hyundai Window Sticker Lookup by VIN, you can easily access the original manufacturer suggested retail price, options, and packages for any Hyundai car. All you need to do is enter the vehicle's 17-digit VIN number, and you'll be given a detailed window sticker that contains all the original factory options and pricing.
This is an invaluable tool for anyone looking to purchase a Hyundai, as it will help you make sure you don't overpay for the vehicle. You can also use the Monroney sticker to compare different options and packages, giving you a better understanding of the vehicle's features and value.
Don't let the uncertainty of purchasing a car stop you from getting a great deal – trust Hyundai Window Sticker by VIN to provide you with all the information you need to make an informed decision. Get started today, and get the most out of your Hyundai purchase!
The Information You Will Find On The Hyundai Window Sticker
The Hyundai window sticker will provide important information about the vehicle such as the make, model, year, trim, color, engine size, transmission type, fuel economy, MSRP, and other features. It will also provide safety ratings and emissions ratings for the vehicle.
Additionally, the window sticker will provide information about additional features and options that may be available for the vehicle, as well as any additional service contracts or warranties offered by the dealership.
2006 FORD F-150 SUPERCAB 4-WD
VIN: 1FTPX14576FB73459
EXTERIOR - PEARL WHITE
INTERIOR - BLACK
2016 HONDA CR-V 5DR 2WD XL
VIN: 55SWF6EBXGU110456
EXTERIOR - PEARL WHITE
INTERIOR - BLACK
2017 TOYOTA TACOMA
TRD
VIN: 3TMCZ5AN2HM052507
EXTERIOR - BLACK
INTERIOR - GREY
How Does Hyundai Window Sticker Increase Sales Conversion?
Hyundai window stickers can help increase sales conversions by providing customers with a comprehensive overview of the vehicle's features and specifications.
The window sticker will include model and trim, engine type, vehicle equipment, pricing, fuel economy, and other relevant information. By providing this information upfront, customers can make an informed decision about the vehicle's suitability for their needs, which can help increase conversions.
Additionally, the window sticker can also help boost sales by providing a comparison between different trim levels and packages, allowing customers to make a more informed decision.
Lookup a Window Sticker for any Manufacturer
What our customers are saying
It will probably be difficult to express how impressed I am with DVH products and services! Based on browsing their website, I took a big leap of faith and ordered two (2) reports which included a vehicle service & history report and a monroney sticker (window sticker)....
Getting the report was pretty easy and straightforward.The report provided the information for me to make a decision on purchasing a car. The report covered all the basics about recalls, accidents, how many owners etc.
The representative was friendly. The window sticker looks great. Wil show it at the Car Shows with my car.
Just purchased a used vehicle and wanted to know options came with it when it was new. Ordered a sticker and it was very helpful. The staff that I contacted was more than helpful. And yes I would definitely use them again.
I asked for a report on a 2002 Ford Taurus, I was going to sell this car and had a buyer request a report, I was surprised with all the detail information from the end of 2001, at the time when it first went in to operation to the last time I had it serviced....
Frequently Asked Questions
You can get a Hyundai window sticker by VIN by contacting your local Hyundai dealership and providing them with your vehicle's VIN number. Alternatively, you can use the PremiumVIN Window Sticker Lookup service to get one.
Yes. After generating your window sticker, you can visualize it online and/or download a copy in PDF format.
The cost of a Hyundai's original window sticker varies depending on the model and trim level of the vehicle. On average, a Hyundai window sticker costs between $15 – $50. But our reproduction window sticker costs only $14.99.
Hyundai Motor Company was founded in 1967 in South Korea as part of the Hyundai Group. It is the world's fifth-largest automotive manufacturer and is the largest carmaker in South Korea. Hyundai produces a wide range of vehicles, including luxury sedans, hatchbacks, SUVs, crossover vehicles, and electric vehicles.
The company has a global presence, with production facilities in China, the United States, India, Turkey, and Brazil in addition to South Korea. It is a publicly-traded company, with a market capitalization of over $70 billion as of 2021.
Hyundai is known for its focus on safety, technology, and innovation. It has developed several advanced driver-assistance systems, such as Smart Sense, which combines adaptive cruise control, lane-keeping assist, and other safety features. It has also developed hydrogen fuel cell technology and electric vehicles.
Hyundai has become a major player in the global automotive market, with sales of more than 8 million vehicles in 2020. The company has a wide range of models, from entry-level cars to luxury SUVs, and its vehicles are sold in more than 190 countries around the world.
Get Window Stickers for the Following Hyundai Models
Hyundai Santa Fe
Hyundai Tucson
Hyundai Accent
Hyundai Creta
Hyundai Grandeur or Hyundai Azera
Hyundai Eon
Hyundai Elantra
Hyundai i10
Hyundai Blue-Will
Hyundai Clix
Hyundai Intrado
Hyundai Genesis Coupe
Hyundai Vision G
Hyundai Terracan
Hyundai Nuvis
Hyundai Grand i10
Hyundai i20
Hyundai Mistra
Hyundai Veracruz
Hyundai Sonata
Hyundai Trajet
Hyundai Galloper
Hyundai Atos
Hyundai BlueOn
Hyundai Excel
Hyundai Equus
Hyundai Lavita
Hyundai Getz
Hyundai Tiburon
Hyundai HB20
Hyundai Dynasty
Hyundai Libero
Hyundai New Tucson
Hyundai Pony
Hyundai Grand Santa Fe
Hyundai Genesis (2008–present)
Hyundai i20 Cross Sport
Hyundai i20 WRC
Hyundai i30 (2007–present)
Hyundai i40 (2011–present)
Hyundai ix20 (2010–present)
Hyundai Scoupe (1988–1995)
Hyundai Stellar (1983–1997)
Hyundai Veloster Turbo(2011-present)
Hyundai Porter (1977–present)
Hyundai Starex (1997–present)
Hyundai Grand Starex
Hyundai 4.5 to 5-ton truck
Hyundai 8 to 25-ton truck
Hyundai Santamo
Hyundai Aero
Hyundai Sonata Embera
Hyundai e-Mighty
Hyundai Mighty II
Hyundai HED-5
Hyundai New Power Truck
Hyundai Global 900
Hyundai County
Hyundai Universe
Hyundai H-100
Hyundai Super Truck Medium
Hyundai Entourage
Hyundai Super Truck
Hyundai Mega Truck
Hyundai Chorus
Hyundai Trago
Hyundai Grace
Hyundai Verna
Hyundai Aero Town
Hyundai Aero City
Hyundai Mighty
Hyundai Marcia
Hyundai Window Sticker Lookup