Mazda Window Sticker Lookup
Get the original specifications, features, options and packages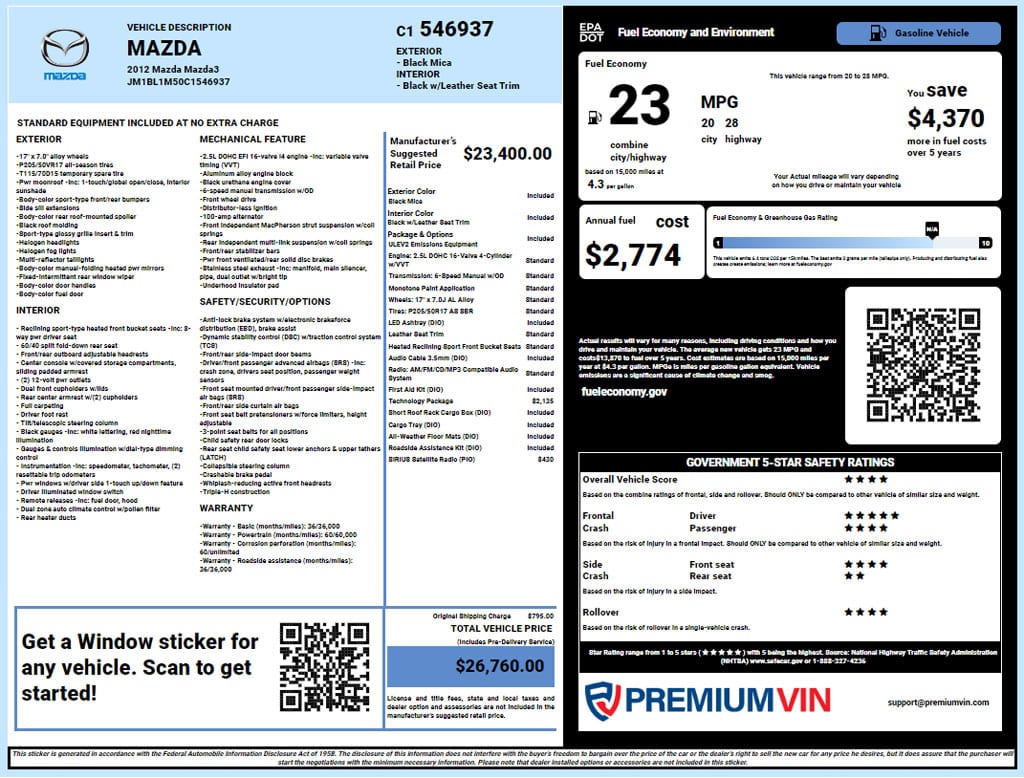 Mazda Window Sticker Lookup by VIN is an easy-to-use online tool that allows you to quickly and accurately find the window sticker for a specific Mazda vehicle. With this tool, you can quickly get the information you need to make an informed decision when buying a new Mazda.
The tool is simple to use and requires no special expertise. All you need to do is simply enter the VIN number of the Mazda vehicle you're looking for and you will be presented with the window sticker information. This includes the MSRP, options, packages, and other details.
Having access to the window sticker information is invaluable when selecting the perfect Mazda for your needs. With Mazda Window Sticker Report, you can make sure you are getting the best value for your money.
Don't wait – start your Mazda search today with Mazda Window Sticker by VIN!
The Information You Will Find On The Mazda Window Sticker
The window sticker for a Mazda vehicle will include information about the vehicle, such as its model, trim level, engine size, transmission type, fuel economy, exterior and interior features, and standard and optional equipment. It will also include the vehicle's MSRP, as well as any applicable discounts or special offers.
Finally, the window sticker will include information about the vehicle's safety equipment and ratings from the National Highway Traffic Safety Administration (NHTSA).
2006 FORD F-150 SUPERCAB 4-WD
VIN: 1FTPX14576FB73459
EXTERIOR - PEARL WHITE
INTERIOR - BLACK
2016 HONDA CR-V 5DR 2WD XL
VIN: 55SWF6EBXGU110456
EXTERIOR - PEARL WHITE
INTERIOR - BLACK
2017 TOYOTA TACOMA
TRD
VIN: 3TMCZ5AN2HM052507
EXTERIOR - BLACK
INTERIOR - GREY
How Does Mazda Window Sticker Increase Sales Conversion?
Mazda Window Stickers Report help increase sales conversion rates by providing potential customers with valuable information about the car they are considering purchasing. This includes key details such as the car's price, fuel efficiency, safety ratings, and other features.
This information helps customers make informed decisions and incentivizes them to purchase the car. Window stickers can also serve as a great marketing tool, as they can help promote special offers or discounts that can increase the likelihood of a sale.
Lookup a Window Sticker for any Manufacturer
What our customers are saying
It will probably be difficult to express how impressed I am with DVH products and services! Based on browsing their website, I took a big leap of faith and ordered two (2) reports which included a vehicle service & history report and a monroney sticker (window sticker)....
Getting the report was pretty easy and straightforward.The report provided the information for me to make a decision on purchasing a car. The report covered all the basics about recalls, accidents, how many owners etc.
The representative was friendly. The window sticker looks great. Wil show it at the Car Shows with my car.
Just purchased a used vehicle and wanted to know options came with it when it was new. Ordered a sticker and it was very helpful. The staff that I contacted was more than helpful. And yes I would definitely use them again.
I asked for a report on a 2002 Ford Taurus, I was going to sell this car and had a buyer request a report, I was surprised with all the detail information from the end of 2001, at the time when it first went in to operation to the last time I had it serviced....
Frequently Asked Questions
To find a Mazda window sticker by VIN, you can go to the PremiumVIN website and enter the VIN number into the "VIN" section. This will provide you with the original window sticker information for your Mazda.
No, you cannot reprint your Mazda window sticker for free. You must purchase a replacement sticker from your local Mazda dealership or PremiumVIN website.
You can get a Mazda original window sticker from either your local Mazda dealership or another website like PremiumVIN.
Mazda is a Japanese automobile manufacturer that was founded in 1920. The company has its headquarters in Fuchu, Aki District, Hiroshima Prefecture, Japan. Initially, the company started as a cork manufacturing firm named Toyo Cork Kogyo Co. Ltd., but later expanded to produce automobiles.
Mazda is known for its focus on producing high-quality vehicles that are both stylish and fun to drive. The company is particularly known for its sporty, performance-oriented vehicles. The company offers a range of cars, SUVs, and crossovers.
One of Mazda's most popular models is the Mazda3, a compact car that offers an impressive combination of style, performance, and fuel efficiency. Another popular model is the Mazda CX-5, a crossover SUV that offers a comfortable ride, ample cargo space, and good fuel economy.
In recent years, Mazda has been making efforts to improve the fuel efficiency of its vehicles by implementing its Skyactiv technology. This technology aims to reduce weight and increase engine efficiency, resulting in improved fuel economy.
As of March 2023, Mazda's market cap stands at approximately 5.5 billion USD. The company sells its vehicles in more than 130 countries worldwide, with a significant presence in the United States, Japan, and Europe.
Overall, Mazda has established itself as a reputable automaker that offers quality vehicles that are fun to drive, stylish, and fuel-efficient. The company continues to invest in research and development to improve its offerings and stay competitive in the global automotive market.
Get Window Stickers for the Following GMC Models
Mazda 3
Mazda 2
Mazda 6
Mazda CX-5
Mazda CX-9
Mazda CX-7
Mazda Mazda5
Mazda MX-5
Mazda Laputa
Mazda Savanna
Mazda Carol
Mazda Millenia
Mazda Xedos 6
Mazda Tribute
Mazda CX-3
Mazda BT-50
Mazda RX-3
Mazda RX-8
Mazda Atenza
Mazda Axela
Mazda MX-5 RF
Mazda Nagare
Mazda Kiyora
Mazda Ryuga
Mazda Sassou
Mazda Senku
Mazda Taiki
Mazda Hakaze
Mazda Kabura
Mazda Furai
Mazda Kazamai
Mazda Takeri
Mazda Shinari
Mazda Minagi
Mazda Kaan
Mazda Activehicle (1999)
Mazda MX-5 Superlight (2009)
Mazda MX-04 (1987)
Mazda MX-03 (1985)
Mazda MX-02 (1983)
Mazda MV-X (1997)
Mazda MS-X (1997)
Mazda Miata Mono-Posto (1999)
Mazda London Taxi (1993)
Mazda Le Mans Prototype (1983)
Mazda HR-X 2 (1993)
Mazda HR-X (1991)
Mazda Gissya (1991)
Mazda CVS (1974)
Mazda CU-X (1995)
Mazda BU-X (1995)
Mazda AZ550 (1989)
Mazda MX-81 (1981)
Mazda TD-R (1989)
Mazda SW-X (1999)
Mazda SU-V (1995)
Mazda Secret Hideout (2001)
Mazda RX-Evolv (1999)
Mazda RX-500 (1970)
Mazda RX-01 (1995)
Mazda RX 87 (1967)
Mazda Nextourer (1999)
Mazda Neospace (1999)
Mazda MX-Micro Sport (2004)
Mazda MX-Flexa (2004)
Mazda MX-Crossport (2005)
Mazda MX Sportif (2003)
Mazda MX Sport Tourier (2001)
Mazda Ford Courier
Mazda RX-2
Mazda Navajo
Mazda R360
Mazda R100
Mazda Familia Astina
Mazda Roadpacer AP
Mazda MXR-01
Mazda Cronos
Mazdaspeed3
Mazda Sentia
Mazda 737C
Mazda 717C
Mazda 121
Mazda 323F
Mazda Ford Laser
Mazda Efini MS-8
Mazda Autozam Revue
Mazda Ford Festiva
Mazda Rotary Pickup
Mazda Sao Penza
Mazda AZ-Wagon
Mazda Biante
Mazda Titan
Mazda Mazdago
Mazda 787B
Mazda Premacy
Mazda 757
Mazda 727C
Mazda Demio
Mazda RX-8 Hydrogen RE
Mazda Premacy Hydrogen RE Hybrid
Mazda AZ-Offroad
Mazda Familia
Mazda Persona
Mazda 929
Mazda3
Mazda MPV
Mazda Nasim
Mazda Bongo
Mazda RX-792P
Mazda MX-5 10th Anniversary Model
Mazda RX-7
Mazda Capella
Mazda Verisa
Mazda MX-3
Mazda B-Series
Mazda RX-4
Mazda6
Mazda Porter
Mazda MX-6
Mazda Mercury Tracer
Mazda Window Sticker Lookup