Volkswagen Window Sticker Lookup
Get the original specifications, features, options and packages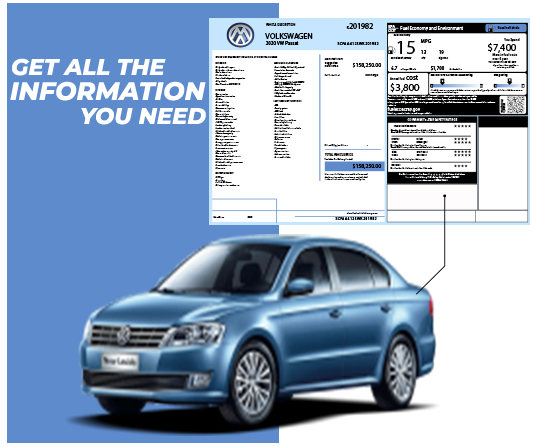 Introducing Volkswagen Window Sticker Lookup by VIN – the only way to quickly and easily look up the original manufacturer's window sticker for your Volkswagen!
This handy tool gives you access to the original window sticker information for your Volkswagen vehicle. With VW Window Sticker Lookup by VIN, you can easily look up the original list of options, features, and accessories that came with your vehicle when it was first sold.
You can also access important information such as the original MSRP and production date, as well as the original equipment manufacturer's warranty information. This is a great way to determine the original value of your Volkswagen and to ensure that you are getting the best value for your money.
Whether you're a serious collector, or just looking for the original information on your vehicle, Volkswagen Window Sticker by VIN is the perfect tool for you! Get access to all the original information you need in just a few clicks.
d
The Information You Will Find On The Volkswagen Window Sticker
The Volkswagen window sticker typically contains important information about a vehicle, including the make and model, trim level, fuel economy ratings, list price, and available features. It also includes important safety information, such as airbags and other safety features, as well as a description of emissions ratings. In some cases, the window sticker may also include the vehicle's VIN number and other details.
2006 FORD F-150 SUPERCAB 4-WD
VIN: 1FTPX14576FB73459
EXTERIOR - PEARL WHITE
INTERIOR - BLACK
2016 HONDA CR-V 5DR 2WD XL
VIN: 55SWF6EBXGU110456
EXTERIOR - PEARL WHITE
INTERIOR - BLACK
2017 TOYOTA TACOMA
TRD
VIN: 3TMCZ5AN2HM052507
EXTERIOR - BLACK
INTERIOR - GREY
How Does Volkswagen Window Sticker Increase Sales Conversion?
Volkswagen window stickers can be a great marketing tool to boost sales conversions. By displaying informative and attractive window stickers, Volkswagen dealerships can draw in potential customers who may not have been aware of their vehicles or services before. Window stickers can help to showcase the features and benefits of Volkswagen vehicles, such as fuel economy, safety ratings, and special offers.
Additionally, VW Original window stickers can help to create a sense of urgency, prompting customers to act now and take advantage of a great deal. Ultimately, window stickers are a great way to increase visibility and interest in Volkswagen vehicles, which can lead to higher sales conversions.
Lookup a Window Sticker for any Manufacturer
What our customers are saying
It will probably be difficult to express how impressed I am with DVH products and services! Based on browsing their website, I took a big leap of faith and ordered two (2) reports which included a vehicle service & history report and a monroney sticker (window sticker)....
Getting the report was pretty easy and straightforward.The report provided the information for me to make a decision on purchasing a car. The report covered all the basics about recalls, accidents, how many owners etc.
The representative was friendly. The window sticker looks great. Wil show it at the Car Shows with my car.
Just purchased a used vehicle and wanted to know options came with it when it was new. Ordered a sticker and it was very helpful. The staff that I contacted was more than helpful. And yes I would definitely use them again.
I asked for a report on a 2002 Ford Taurus, I was going to sell this car and had a buyer request a report, I was surprised with all the detail information from the end of 2001, at the time when it first went in to operation to the last time I had it serviced....
Frequently Asked Questions
You can get a reproduction of your original Volkswagen window sticker from a few different sources. Depending on the model and year of your Volkswagen, you may be able to get a copy of the sticker from the PremiumVIN website.
You can find the original MSRP of your Volkswagen car by looking up the year and model of your car on the PremiumVIN website. On the PremiumVIN website, you can look up the car's original MSRP, as well as its current market value.
A factory window sticker is a type of label that is affixed to the window of a vehicle when it leaves the factory. It contains information about the vehicle such as its make, model, year, engine type, and other options. The window sticker also includes the MSRP (manufacturer's suggested retail price) of the vehicle.
Volkswagen is a German multinational automotive company headquartered in Wolfsburg, Germany. The company was founded in 1937 and is one of the largest automakers in the world.
Volkswagen produces a wide range of vehicles, including cars, trucks, and SUVs, under brands such as Volkswagen, Audi, Porsche, and Lamborghini. The company is particularly well-known for its iconic Volkswagen Beetle, Golf, and Jetta models, as well as its luxury Audi vehicles.
In terms of market capitalization, Volkswagen is also one of the largest companies in the world. As of March 2, 2023, Volkswagen's market cap was approximately €138.2 billion EUR (equivalent to $151.6 billion USD). The company has a strong presence in many global markets, including Europe, North America, and Asia.
Volkswagen has faced some significant challenges in recent years, including a high-profile emissions scandal in which the company admitted to cheating on emissions tests for its diesel vehicles. The scandal led to significant fines and penalties for Volkswagen, as well as a decline in consumer trust and a push toward electric and hybrid vehicles.
Overall, Volkswagen remains a major player in the global automotive industry, with a focus on producing high-quality and innovative vehicles across a wide range of brands and markets.
Get Window Stickers for the Following Volkswagen Models
Volkswagen Beetle
Volkswagen Golf
Volkswagen Touran
Volkswagen Jetta
Volkswagen Tiguan
Volkswagen Passat
Volkswagen Polo GTI
Volkswagen Atlas
Volkswagen Touareg
Volkswagen Caddy
Volkswagen Transporter
Volkswagen Sharan
Volkswagen CC
Volkswagen Scirocco
Volkswagen Lavida
Volkswagen Type 4
Volkswagen Type 3
Volkswagen Eos
Volkswagen K70
Volkswagen up!
Volkswagen Santana
Volkswagen Corrado
Volkswagen Derby
Volkswagen Polo
Volkswagen Citi Golf
Volkswagen Golf GTI
Volkswagen Polo Mk III
Volkswagen Polo Mk5
Volkswagen Polo Mk IV
Volkswagen Polo Playa
Volkswagen Golf Mk1
Volkswagen Golf Mk2
Volkswagen Golf Mk3
Volkswagen Golf Mk4
Volkswagen Concept BlueSport
Volkswagen GTI
Volkswagen SP2
Volkswagen 1-litre car
Volkswagen Golf Mk5
Volkswagen Golf Mk6
Volkswagen Golf Variant
Volkswagen New Beetle
Volkswagen Gol
Volkswagen Phaeton
Volkswagen Fox
Volkswagen LT
Volkswagen Type 147 Kleinlieferwagen
Volkswagen Type 2 (T3)
Volkswagen Crafter
Volkswagen Type 2
Volkswagen California
Volkswagen GLI
Volkswagen Polo Hatchback
Volkswagen Polo Sedan
Volkswagen Routan
Volkswagen Concept BlueSport
Volkswagen Amarok
Volkswagen R32
Volkswagen Kübelwagen
Volkswagen Iltis
Volkswagen Iroc
Volkswagen ARVW
Volkswagen Delivery
Volkswagen Brasilia
Volkswagen Country Buggy
Volkswagen Lupo
Volkswagen Bio Runner
Volkswagen Thing
Volkswagen Apollo
Volkswagen Karmann Ghia
Shanghai-Volkswagen Lavida
Volkswagen Type 14A
Volkswagen Type 18A
Volkswagen Golf Cabriolet
Volkswagen W12
Volkswagen EA489 Basistransporter
Volkswagen 181
Volkswagen 276 Schlepperfahrzeug
Volkswagen Constellation
Volkswagen Window Sticker Lookup