Kia Window Sticker Lookup
Get the original specifications, features, options and packages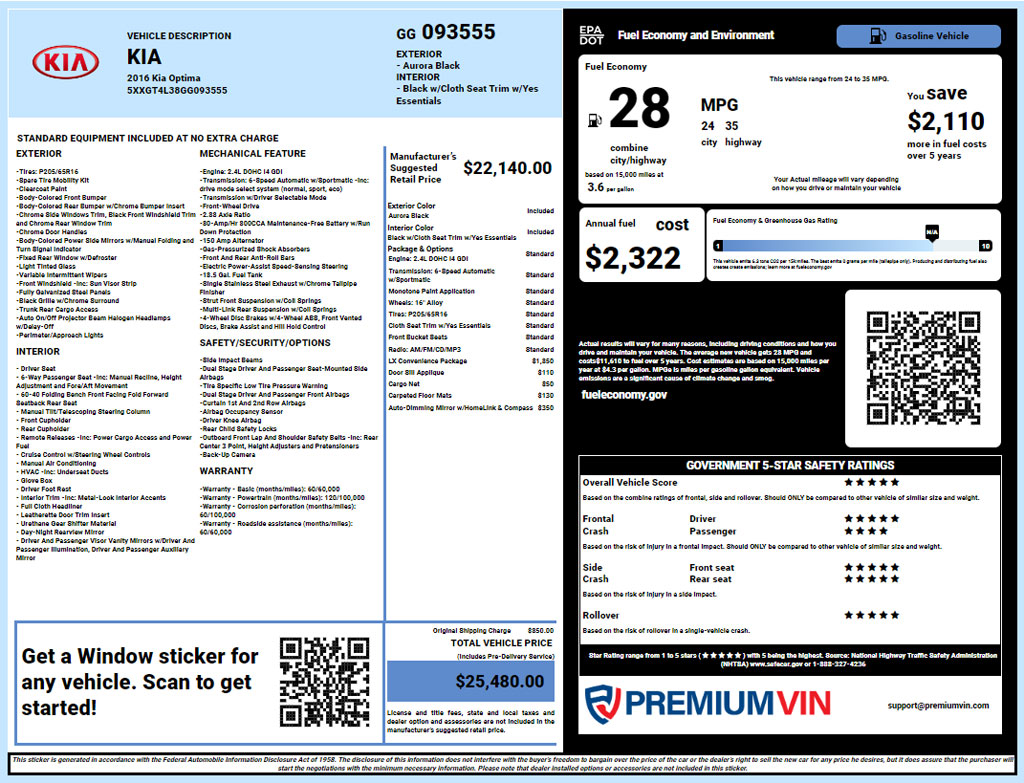 Are you looking for the sticker price of a new Kia?
Look no further! With Kia Window Sticker Lookup tool you can quickly and easily find the sticker price for any Kia vehicle.
Using the Kia Window Sticker Lookup tool is simple. All you need to do is enter a valid VIN number, and you will instantly receive the sticker price for the vehicle you are interested in.
The window sticker includes information on the vehicle's standard features, options, and warranties. You'll be able to compare different Kia models and make an informed decision when it comes to buying your next new car.
Plus, Kia Window Sticker Lookup is fast, efficient, and secure. You won't have to worry about wasting time or risking your personal information.
Don't wait any longer. Get the sticker price for your next Kia vehicle with Kia Window Sticker Lookup by VIN.
The Information You Will Find On The Kia Window Sticker
The Kia window sticker provides a wealth of information about the vehicle, including its model, trim level, color, and features, as well as its engine specifications, fuel economy, and safety ratings.
It will also provide the MSRP, dealer incentives and options, and any additional charges. The sticker also includes the vehicle identification number (VIN), which can be used to track the car's history.
2006 FORD F-150 SUPERCAB 4-WD
VIN: 1FTPX14576FB73459
EXTERIOR - PEARL WHITE
INTERIOR - BLACK
2016 HONDA CR-V 5DR 2WD XL
VIN: 55SWF6EBXGU110456
EXTERIOR - PEARL WHITE
INTERIOR - BLACK
2017 TOYOTA TACOMA
TRD
VIN: 3TMCZ5AN2HM052507
EXTERIOR - BLACK
INTERIOR - GREY
How Does Kia Window Sticker Increase Sales Conversion?
Kia window stickers can be used to increase sales conversion by providing potential customers with information about the vehicle and its features. By having a detailed list of features, customers can see the value of the vehicle and better understand its capabilities.
Additionally, window stickers can provide customers with an incentive to purchase the vehicle by including discounts, special offers, and other benefits. By providing customers with this information, they are more likely to make an informed decision and purchase the vehicle.
Lookup a Window Sticker for any Manufacturer
What our customers are saying
It will probably be difficult to express how impressed I am with DVH products and services! Based on browsing their website, I took a big leap of faith and ordered two (2) reports which included a vehicle service & history report and a monroney sticker (window sticker)....
Getting the report was pretty easy and straightforward.The report provided the information for me to make a decision on purchasing a car. The report covered all the basics about recalls, accidents, how many owners etc.
The representative was friendly. The window sticker looks great. Wil show it at the Car Shows with my car.
Just purchased a used vehicle and wanted to know options came with it when it was new. Ordered a sticker and it was very helpful. The staff that I contacted was more than helpful. And yes I would definitely use them again.
I asked for a report on a 2002 Ford Taurus, I was going to sell this car and had a buyer request a report, I was surprised with all the detail information from the end of 2001, at the time when it first went in to operation to the last time I had it serviced....
Frequently Asked Questions
To get a KIA window sticker PDF report, you can use our Window Sticker Lookup tool. Just enter your KIA VIN number and get the report.
Special order on the window sticker typically refers to any customizations or upgrades that have been made to the vehicle from the factory. This could include upgraded trim, specialized paint, custom wheels, or any other type of customization.
No, the window sticker is not the final price. The final price will depend on any incentives and discounts that the dealership might offer.
Kia Motors is an automobile manufacturer based in South Korea and the second largest automaker in the country. Founded in 1944, Kia has grown to become one of the most recognizable names in the automobile industry, producing vehicles that are renowned for their reliability and affordability.
Kia's vehicles range from small city cars to large SUVs, as well as a variety of commercial vehicles. The company has experienced significant growth in recent years, with sales increasing from 2.5 million in 2017 to 3.2 million in 2020. Kia has also established itself as a major player in the global automotive industry, with its vehicles sold in more than 180 countries around the world.
In terms of revenue, Kia recorded $52.6 billion in 2020, up from $49.5 billion in 2019. The company's market value is estimated to be around $48 billion, making it the fourth-largest automobile manufacturer in the world.
Kia is also the sixth-largest carmaker in terms of market size, with its vehicles accounting for 7.7% of the global car market in 2020. The company has also been expanding its presence in the United States, with its market share growing from 2.2% in 2017 to 4.8% in 2020.
Kia is committed to producing vehicles that are both reliable and affordable, and its success in doing so has made it one of the leading automobile manufacturers in the world.
Get Window Stickers for the Following Kia Models
Kia Cadenza
Kia Optima/Magentis/K5
Kia K900
Kia Stinger
Kia Forte
Kia Rio
Kia Sorento
Kia Niro
Kia Sportage
Kia Soul
Kia Picanto
Kia Carnival/Sedona
Kia Seltos SX
Kia Sportspace
Kia Telluride
KIA Ray Hybrid Concept
Kia Kee
Kia GT Concept
Kia KCV III
Kia Vizen
Kia Streetrunner
Kia Slice
Kia Rondo Taxi
Kia Rondo SX
Kia Multi S
Kia KOUP
Kia KND-4
Kia KCV-4 Mojave
Kia Club
Kia Alpha
Kia 18+
Kia Venga
Kia Carens/Rondo
Kia Pop
Kia Kue
Kia Potentia
Kia Cerato
Kia Avella
Kia Bongo
Kia Cee'd
Kia Credos
Kia Mohave
Kia Opirus
Kia Pride
Kia Sephia
Kia KM420
Kia Rondo
Kia Borrego
Kia Cadenza/K7
Kia Rio/Rio5/Pride
Kia Rino 
Kia Picanto/Morning
Kia K9/Quoris
Kia Forte/Cerato
Kia K2700/Strong/3000S/2500TCI- KMC only
Kia Granbird – KMC only
Kia K4000s – KMC only
Kia AM928 – KMC only
Kia Soul Hybrid
Kia Ray Plug-in hybrid
Kia cee'd Hybrid
Kia Spectra
1974–1981 Kia Brisa
2000–2009 Kia Spectra
2000–2002 Kia Combi (originally by Asia, since 1983)
1987–1996 Kia Concord/Capital
1975–1981 Kia Brisa II/K303
Kia Pro cee'd
Kia Mentor
Kia Window Sticker Lookup