Porsche Window Sticker Lookup
Get the original specifications, features, options and packages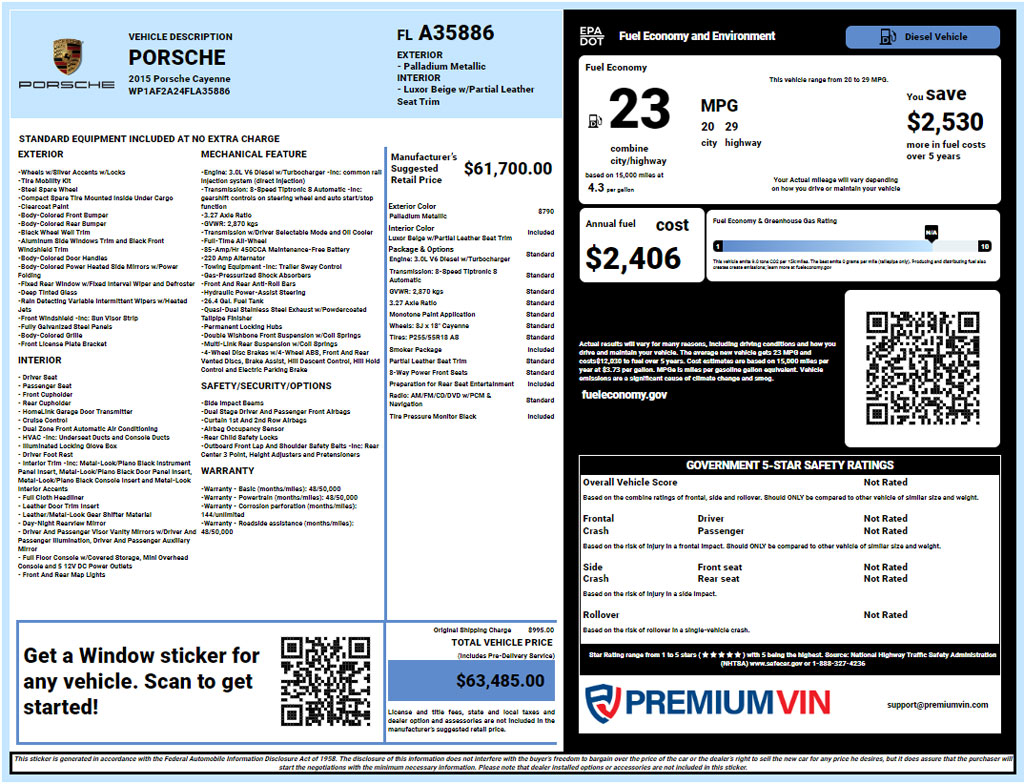 Are you in the market for a new or used Porsche? Have you ever wanted to know the original sticker price of your car?
Now you can with Porsche's Window Sticker Lookup tool! With this online tool, you can quickly and easily look up the original sticker price of any Porsche in the US. All you need is the Vehicle Identification Number (VIN) of the car you're interested in.
This is great for those looking to purchase a used Porsche. You can now use the Window Sticker Lookup by VIN to ensure you're getting the best deal possible. You can also use it to get a better sense of what a used car is worth.
So don't wait! Take advantage of Porsche's Window Sticker Lookup tool and get the best deal on your next Porsche.
The Information You Will Find On The Porsche Window Sticker
The Porsche window sticker typically includes the vehicle's make, model, trim level, engine specifications, transmission type, standard and optional features, color, MSRP, and fuel economy. It may also include safety ratings and any applicable warranty information.
2006 FORD F-150 SUPERCAB 4-WD
VIN: 1FTPX14576FB73459
EXTERIOR - PEARL WHITE
INTERIOR - BLACK
2016 HONDA CR-V 5DR 2WD XL
VIN: 55SWF6EBXGU110456
EXTERIOR - PEARL WHITE
INTERIOR - BLACK
2017 TOYOTA TACOMA
TRD
VIN: 3TMCZ5AN2HM052507
EXTERIOR - BLACK
INTERIOR - GREY
How Does Porsche Window Sticker Increase Sales Conversion?
Porsche window stickers can be used to draw attention to a vehicle's features and capabilities, making them an effective tool for increasing sales conversion.
By highlighting Porsche's features and benefits, potential customers can easily see the value of the vehicle and may be more likely to make a purchase. Additionally, Porsche window stickers can create a sense of exclusivity, which can make people feel special and more likely to buy.
Finally, window stickers can be used to promote discounts or special offers, which can also be an effective way to increase sales conversion.
Lookup a Window Sticker for any Manufacturer
What our customers are saying
It will probably be difficult to express how impressed I am with DVH products and services! Based on browsing their website, I took a big leap of faith and ordered two (2) reports which included a vehicle service & history report and a monroney sticker (window sticker)....
Getting the report was pretty easy and straightforward.The report provided the information for me to make a decision on purchasing a car. The report covered all the basics about recalls, accidents, how many owners etc.
The representative was friendly. The window sticker looks great. Wil show it at the Car Shows with my car.
Just purchased a used vehicle and wanted to know options came with it when it was new. Ordered a sticker and it was very helpful. The staff that I contacted was more than helpful. And yes I would definitely use them again.
I asked for a report on a 2002 Ford Taurus, I was going to sell this car and had a buyer request a report, I was surprised with all the detail information from the end of 2001, at the time when it first went in to operation to the last time I had it serviced....
Frequently Asked Questions
If you purchased your Porsche from a private seller, you may try contacting the dealership to see if they can provide you with a window sticker. If that is not an option, you may also be able to purchase a window sticker from a third-party vendor like PremiumVIN
To re-generate a Porsche window sticker, you will need to contact your local Porsche dealer. The dealer will be able to provide you with a duplicate set of window stickers based on your vehicle's VIN (Vehicle Identification Number). Or you can use our Porsche window sticker re-generator tool to get one without any hassle.
The cost of a Porsche original window sticker varies depending on the model and year of the vehicle. Prices typically range from $15 to $50.
Porsche is a German luxury sports car manufacturer that was founded in 1931 by Ferdinand Porsche. The company is headquartered in Stuttgart, Germany and is known for producing high-performance sports cars, SUVs, and sedans.
Initially, Porsche worked as a consulting firm for other automotive manufacturers, designing cars for brands like Volkswagen and Mercedes-Benz. However, in 1948, Porsche introduced its first car, the Porsche 356, which was a two-door, rear-engine sports car that became an instant success.
Over the years, Porsche has continued to produce a wide range of sports cars, including the iconic Porsche 911, the Porsche Boxster, and the Porsche Cayman. In addition to sports cars, Porsche has also produced SUVs like the Porsche Cayenne and the Porsche Macan.
Porsche is known for its engineering excellence, high-quality materials, and attention to detail. The company has won numerous awards for its vehicles, including multiple Car of the Year awards from prestigious publications like Motor Trend and Automobile Magazine.
As of March 2023, Porsche's market capitalization is around $100 billion USD. The company is owned by Volkswagen Group, which acquired a controlling stake in Porsche in 2012.
Get Window Stickers for the Following Porsche Models
Porsche Cayenne
Porsche Cayenne SUV
Porsche 911
Porsche Panamera
Porsche Cayman S
Porsche 718 Boxter
Porsche 918 Spyder
Porsche Macan
Porsche 997
Porsche 914
Porsche 912
Porsche 924
Porsche 928
Porsche 930
Porsche 944
Porsche 356
Porsche 959
Porsche 968
Porsche Panamera 4-seat sports sedan
Porsche Macan SUV (expected 2013)
Porsche Cayman 2-seat coupe
Porsche Carrera GT
Porsche Boxster 2-seat roadster
Porsche 911 Targa 4
Porsche 911 GT1 Straßenversion
Porsche 911 4-seat coupe, targa and cabriolet
Porsche Boxster
Porsche 912
Porsche Panamera Turbo
Porsche Carrera
Porsche Cayman
Porsche 64
Porsche WSC-95 / LMP1-98
Porsche RS Spyder (9R6)
Porsche-March 89P
Porsche Le Mans 2014 Project
Porsche LMP2000 (never raced)
Porsche 962
Porsche 961
Porsche 956
Porsche 936
Porsche 935
Porsche 934
Porsche 918 RSR
Porsche 917
Porsche 910
Porsche 909 Bergspyder
Porsche 908
Porsche 907
Porsche 906
Porsche 904
Porsche 804
Porsche 787
Porsche 718 Cayman
Porsche 550 Spyder
Porsche 360 Cisitalia
Porsche 114
Porsche Panamericana
Porsche C88
Porsche Boxster concept
Porsche 989
Porsche 969
Porsche 959 Prototype
Porsche 942
Porsche 916 (flat-6 914)
Porsche 901 (911 prototype)
Porsche 695 (911 prototype)
Porsche 356/1
Porsche Type 110
Porsche Super (38 hp)
Porsche Standard (25 hp)
Porsche R22
Porsche Master (50 hp)
Porsche Junior (14 hp)
Porsche AP Series
Porsche 312
Porsche 108F
Porsche Roxster
Porsche 356 Carrera
Porsche TechArt 997 Carrera
Porsche 993
Porsche 996
Porsche 964
Porsche 911 GT2
Porsche Ruf CTR2
Porsche Ruf Rt 12
Porsche TechArt 997 Turbo
Porsche 911 Carrera
Porsche 911 GT3
Porsche TechArt Magnum
Porsche 914-6 GT
Porsche TECHART GTsport
Porsche Window Sticker Lookup