Honda Window Sticker Lookup
Get the original specifications, features, options and packages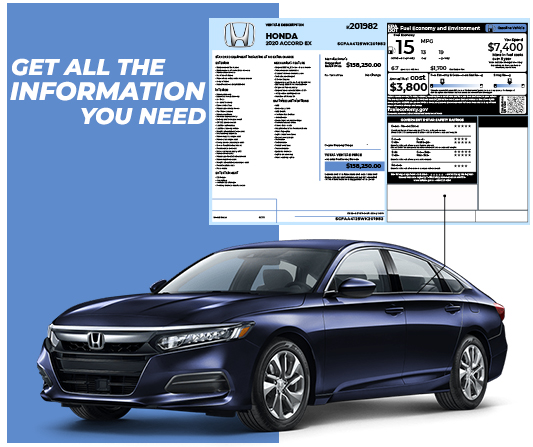 Are you looking for a fast and easy way to find out what options were included with your Honda vehicle when it was new? Look no further than the Honda Window Sticker Lookup by VIN!
This convenient tool provides you with a reliable way to quickly find out all the details of your Honda's original equipment. Using the VIN number of your car, you can get a list of the options your vehicle was equipped with when it was originally sold.
Whether you're looking to find a part or just curious to know what features your car came with, the Honda Window Sticker by VIN is the perfect tool for you. It's fast, easy to use, and available 24/7 so you can get the info you need whenever you need it.
Get the answers to all your Honda questions quickly and easily with the Honda Window Sticker Lookup service. Start using it today and you'll have all the information you need in no time!
The Information You Will Find On The Honda Window Sticker
The Honda window sticker will provide information about the vehicle including the model name and trim level, engine type, transmission type, standard equipment, available options, fuel efficiency ratings, and manufacturer's suggested retail price (MSRP). It will also provide information about the vehicle's warranties and other pertinent information.
2006 FORD F-150 SUPERCAB 4-WD
VIN: 1FTPX14576FB73459
EXTERIOR - PEARL WHITE
INTERIOR - BLACK
2016 HONDA CR-V 5DR 2WD XL
VIN: 55SWF6EBXGU110456
EXTERIOR - PEARL WHITE
INTERIOR - BLACK
2017 TOYOTA TACOMA
TRD
VIN: 3TMCZ5AN2HM052507
EXTERIOR - BLACK
INTERIOR - GREY
How Does Honda Window Sticker Increase Sales Conversion?
Honda window stickers can be an effective way to increase sales conversions by providing customers with important information about the vehicle and its features. By displaying this information in an easy-to-read format, customers can quickly and accurately compare different models of Honda vehicles to determine which one best suits their needs.
Additionally, the sticker can be used to highlight any special offers or incentives that may be available, providing further incentives for customers to make a purchase.
Finally, the sticker can also be used to showcase the quality and reliability of Honda vehicles, making customers more likely to choose Honda over other brands.
Lookup a Window Sticker for any Manufacturer
What our customers are saying
It will probably be difficult to express how impressed I am with DVH products and services! Based on browsing their website, I took a big leap of faith and ordered two (2) reports which included a vehicle service & history report and a monroney sticker (window sticker)....
Getting the report was pretty easy and straightforward.The report provided the information for me to make a decision on purchasing a car. The report covered all the basics about recalls, accidents, how many owners etc.
The representative was friendly. The window sticker looks great. Wil show it at the Car Shows with my car.
Just purchased a used vehicle and wanted to know options came with it when it was new. Ordered a sticker and it was very helpful. The staff that I contacted was more than helpful. And yes I would definitely use them again.
I asked for a report on a 2002 Ford Taurus, I was going to sell this car and had a buyer request a report, I was surprised with all the detail information from the end of 2001, at the time when it first went in to operation to the last time I had it serviced....
Frequently Asked Questions
If you purchased the Honda from a private seller, you can use our Window Sticker Lookup Tool to get a factory window sticker for your Honda vehicle.
Yes, we provide Honda window stickers by VIN number.
It depends on where you live. In some states, you may need a window sticker for your car in order to comply with local laws. Check with your local DMV to find out what is required in your area.
Honda Motor Co., Ltd. is a Japanese multinational automaker and engineering corporation founded in 1948 by Soichiro Honda and Takeo Fujisawa. The company is based in Tokyo, Japan, and is known for producing a wide range of vehicles, motorcycles, and power equipment.
Honda's product lineup includes cars, SUVs, trucks, and minivans. Some of its most popular models include the Civic, Accord, CR-V, and Odyssey. In addition to traditional gasoline-powered vehicles, Honda has also developed a range of hybrid and electric vehicles.
As of February 25, 2023, Honda's market capitalization is approximately $55 billion. The company has operations in numerous countries around the world and sells its vehicles through a network of dealerships and retail outlets.
Honda has a reputation for innovation and has been responsible for many industry firsts, including the introduction of the first Japanese-made passenger car, the Honda S500, in 1963. In addition, Honda has made significant contributions to the development of clean energy technologies, including fuel cell vehicles and solar power systems.
Honda has also been a pioneer in the development of advanced driver-assistance systems and autonomous driving technologies. The company has announced plans to introduce a range of self-driving vehicles by 2025.
Overall, Honda has a strong reputation for quality and reliability and continues to be a major player in the global automotive industry, with a focus on innovation and technology to meet the evolving needs of its customers.
Get Window Stickers for the Following Honda Models
Honda CR-V
Honda Avancier
Honda Pilot
Honda Crosstour
Honda Element
Honda BR-V
Honda Odyssey
Honda N-One
Honda StepWGN
Honda Jazz
Honda Vamos
Honda Civic
Honda City
Honda Ascot
Honda Accord
Honda CR-Z
Honda Airwave
Honda HR-V
Honda Mobilio
Honda Stream
Honda NSX
Honda Capa
Honda Urban EV concept
Honda Project 2&4
Honda FCX
Honda EV-N
Honda FCX
Honda FC Sport
Honda HS
Honda OSM
Honda Urban SUV
Honda SUT
Honda Step Bus
Honda SSM
Honda Small Hybrid Sports
Honda S360
Honda Remix
Honda Puyo
Honda OSM
Honda N800
Honda MV-99
Honda Model X
Honda Kiwami
Honda J-WJ
Honda J-VX
Honda J-MW
Honda J-MJ
Honda Imas
Honda HSC
Honda Gear
Honda Fuya-Jo
Honda FCX
Honda Dualnote (of DN-X)
Honda ASM
Honda ZEST
Honda Ridgeline
Honda Legend
Honda FCX Clarity
Honda Brio
Honda Acty
Honda Wow
Honda Fit Shuttle
Honda Inspire
Honda Freed
Honda Elysion
Honda Ballade
Honda Life
Honda Integra
Honda Passport
Honda That's
Honda Odyssey/Shuttle (international market) (1995-present)
Honda MDX (2003-present)
Honda Insight, a hybrid electric vehicle (2000-2006, 2009-present)
Honda Fit
Honda Civic Hybrid (2003-present)
Honda Civic GX
Honda Civic GTi
Honda Civic Type R
Honda Hobio (2003-present)
Honda Fit Aria (1981-present)
Honda Caren (1990)
Honda Brio Amaze
Honda 2008 RA108
Honda 2007 RA107
Honda 2006 RA106
Honda 1969 R-1300
Honda 1968 RA302
Honda 1968 RA301
Honda 1967 RA300
Honda 1966 RA273
Honda 1965 RA272
Honda 1964 RA271
Honda 1963–1967 T360
Honda TN360/TN-III
Honda TN-Acty
Honda Quint Integra
Honda 2004–2009 Honda FR-V, a 6 seater
Honda 2004–2009 Edix
Honda 2002–2008 Mobilio Spike
Honda 2002–2007 That's
Honda 2000–2004 Life Dunk
Honda 1999–2009 S2000
Honda 1999–2009 S2000
Honda 1999–2004 LaGreat
Honda 1997–2002 Torneo
Honda 1997–1999 EV Plus, an electric vehicle
Honda 1996–2010 Partner Van
Honda 1996–2002 S-MX
Honda 1996–2002 Orthia
Honda 1996–2001 Logo
Honda 1995–2003 Saber
Honda 1993–1998, 2008–2010 Crossroad
Honda 1993–1997 Rafaga
Honda 1992–2004 Domani
Honda 1992–1997 CR-X del Sol
Honda 1992–1995 NSX-R
Honda 1991–1996 Beat
Honda 1988–1994 Concerto
Honda 1985–2007 Integra
Honda 1985–1997 Today
Honda 1983–1991 CR-X (a.k.a. Ballade Sports CR-X or Civic CR-X)
Honda 1981–1999 Street
Honda 1980–2002 Ballade
Honda 1980–1985 Quintet
Honda 1978–2001 Prelude
Honda 1973–1974 Life Pick-Up
Honda 1972–1974 Life StepVan
Honda 1972 1300
Honda 1970–1974, 1998–2002 Z
Honda 1969–1972 N600
Honda 1967–1970 N360/N400
Honda 1966–1970 S800
Honda 1966–1967 L800
Honda 1965–1966 SM600
Honda 1965 L700
Honda 1964–1967 T500
Honda 1964–1966 S600
Honda 1963–1964 S500
Honda Life Dunk
Honda Mobilio Spike
Honda Quint
Honda S600
Honda Domani
Honda Concerto
Honda N360
Honda L700
Honda T360
Honda Prelude
Honda S500
Honda Beat
Honda Crossroad
Honda Torneo
Honda S800
Honda Stepwgn
Honda Today
Honda Logo
Honda CR-X del Sol
Honda 1300
Honda S-MX
Honda Orthia
Honda CR-X
Honda Z
Honda S2000
Honda EV Plus
Honda Z600
Honda 1994–2002 Passport
Honda Window Sticker Lookup