Land Rover Window Sticker Lookup
Get the original specifications, features, options and packages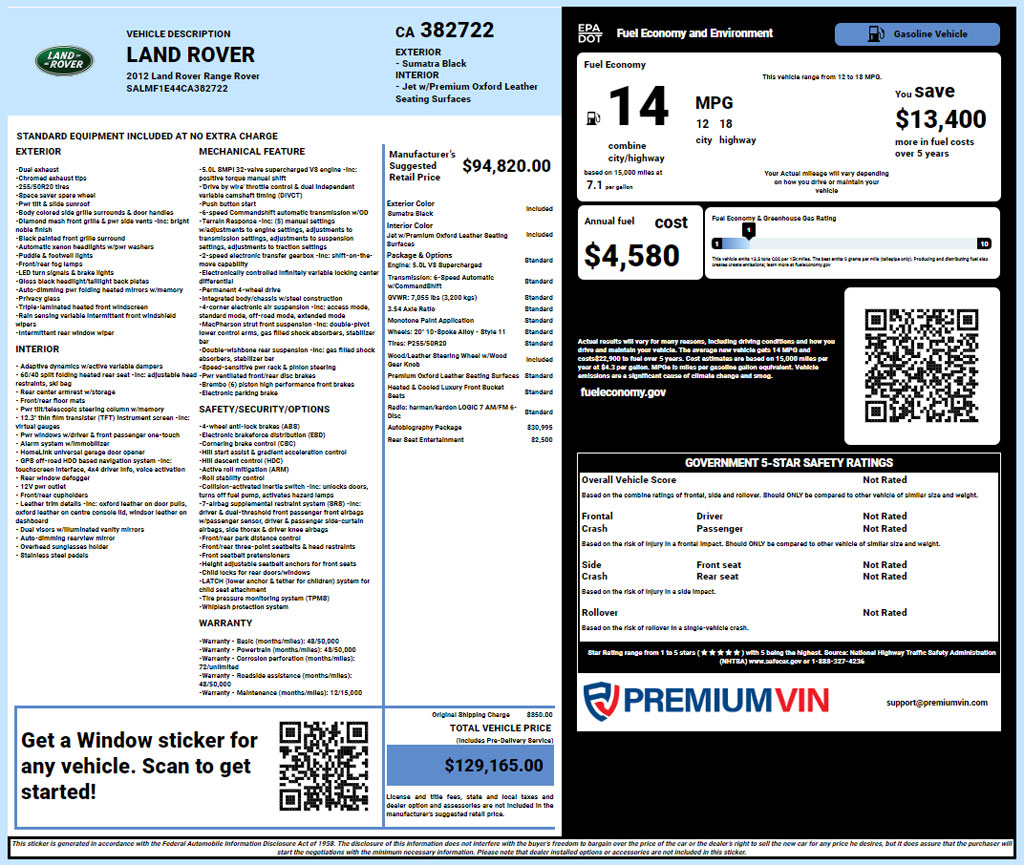 Are you looking to find the right window sticker for your Land Rover? Look no further use our Land Rover Window Sticker Lookup!
Our comprehensive database contains all the information you need to find the perfect window sticker for your Land Rover. Simply enter the Vehicle Identification Number (VIN) and you'll have access to all the details you need.
You'll get the original factory window sticker, including the make, model, trim, color, and other important details.
Our Land Rover Window Sticker Lookup by VIN is the only source you'll need to quickly and accurately identify your Land Rover. We make it easy to find the right window sticker for your vehicle, so you can enjoy your Land Rover for years to come.
Don't take chances with your Land Rover. Get the right window sticker today with Land Rover Window Sticker by VIN Tool!
The Information You Will Find On The Land Rover Window Sticker
The window sticker of a Land Rover will contain information such as the model and year of the vehicle, the engine size and type, the fuel capacity, the transmission type, the exterior and interior colors, the standard and optional features, the suggested retail price of the vehicle, the destination charge, and the total price.
It may also include information about the vehicle's warranty, emissions rating, and safety features.
2006 FORD F-150 SUPERCAB 4-WD
VIN: 1FTPX14576FB73459
EXTERIOR - PEARL WHITE
INTERIOR - BLACK
2016 HONDA CR-V 5DR 2WD XL
VIN: 55SWF6EBXGU110456
EXTERIOR - PEARL WHITE
INTERIOR - BLACK
2017 TOYOTA TACOMA
TRD
VIN: 3TMCZ5AN2HM052507
EXTERIOR - BLACK
INTERIOR - GREY
How Does Land Rover Window Sticker Increase Sales Conversion?
Land Rover window stickers are an effective way to increase sales conversion. By clearly displaying the price, features, and incentives of a vehicle, potential customers are more likely to take action and purchase the vehicle. Window stickers are also a great way to attract attention to the vehicle, as it stands out from the rest of the cars on the lot.
Additionally, window stickers can provide helpful information about the vehicle, such as fuel efficiency and safety ratings, which can help customers make an informed decision. Finally, window stickers can help make the buying process easier and more efficient, as customers can quickly determine if a car is within their budget and if it meets their needs.
Lookup a Window Sticker for any Manufacturer
What our customers are saying
It will probably be difficult to express how impressed I am with DVH products and services! Based on browsing their website, I took a big leap of faith and ordered two (2) reports which included a vehicle service & history report and a monroney sticker (window sticker)....
Getting the report was pretty easy and straightforward.The report provided the information for me to make a decision on purchasing a car. The report covered all the basics about recalls, accidents, how many owners etc.
The representative was friendly. The window sticker looks great. Wil show it at the Car Shows with my car.
Just purchased a used vehicle and wanted to know options came with it when it was new. Ordered a sticker and it was very helpful. The staff that I contacted was more than helpful. And yes I would definitely use them again.
I asked for a report on a 2002 Ford Taurus, I was going to sell this car and had a buyer request a report, I was surprised with all the detail information from the end of 2001, at the time when it first went in to operation to the last time I had it serviced....
Frequently Asked Questions
PremiumVIN offers Land Rover window stickers with detailed information, so you can get a Land Rover window sticker report from PremiumVIN. You can also contact your local Land Rover dealership.
Yes, we provide Land Rover window sticker reports at an affordable price.
Yes, you can get a window sticker from a VIN number. Just enter the VIN number and your email address in your window sticker lookup form to get the report.
Land Rover is a British car maker that has been producing luxury off-road vehicles since 1948. The company was founded by the Rover Company, which had been producing cars since 1904. The first Land Rover, the Series I, was launched in 1948 and featured a four-wheel drive vehicle with a four-cylinder engine. Since then, Land Rover has continued to produce popular and iconic off-road vehicles including the Range Rover, Discovery, and Defender.
Land Rover is now owned by the Indian car manufacturer Tata Motors, who purchased the company in 2008. The company has an annual revenue of around $23 billion and has a market value of approximately $8.37 billion. Land Rover has a global presence and is currently sold in over 170 countries. The company has a strong presence in North America and Europe, as well as in emerging markets such as China, India, and South Africa.
Land Rover is the world's largest producer of luxury off-road vehicles and has a substantial share of the market. According to a report published by IHS Automotive in 2020, Land Rover had an estimated 11.6% share of the global market for luxury off-road vehicles, with an estimated total market size of $62 billion. This makes Land Rover the leading producer of luxury off-road vehicles in the world.
The company has continued to innovate and develop new models, such as the Land Rover Evoque and the Range Rover Velar. Land Rover is also expanding its electric vehicle range, with the launch of the all-electric Land Rover Defender in 2020. The company is also investing heavily in autonomous vehicle technology, with the goal of launching its first self-driving cars in 2021.
Get Window Stickers for the Following Land Rover Models
Range Rover Evoque
Range Rover Velar
Land Rover Discovery
Range Rover Sport
Land Rover Defender
Range Stormer
Land Rover Discovery Sport
Range Rover (L405) (2012-present)
Range Rover (L322) (2002-2012)
Range Rover (P38A) (1994-2002)
Land Rover Range Rover
Land Rover Freelander (1997–2014)
Range Rover Classic (1970–1995)
Range Rover (Since 1970)
Land Rover Discovery 4
Land Rover DC100 (2011)
Land Rover Series (1948–1985)
Land Rover Wolf
Land Rover 1/2 ton Lightweight (early 1960s)
Land Rover 101 Forward Control (started in 1967)
Series IIA (1961–1971)
Series II (1958–1961)
Series III (1971–1985)
Rover CityRover
Long Range Patrol Vehicle (1980s–[present)
Land Rover Llama (mid-1980s)
Land Rover Perentie (1980s-1990s)
Land Rover Tangi (1957)
Ranger Special Operations Vehicle
Snatch Land Rover (1992)
Shorland armored car (1970)
TACR2 (Range Rover)
Defender Ice Edition 2010
Land Rover Sterling
Land Rover Window Sticker Lookup