Mercedes-Benz Window Sticker Lookup
Get the original specifications, features, options and packages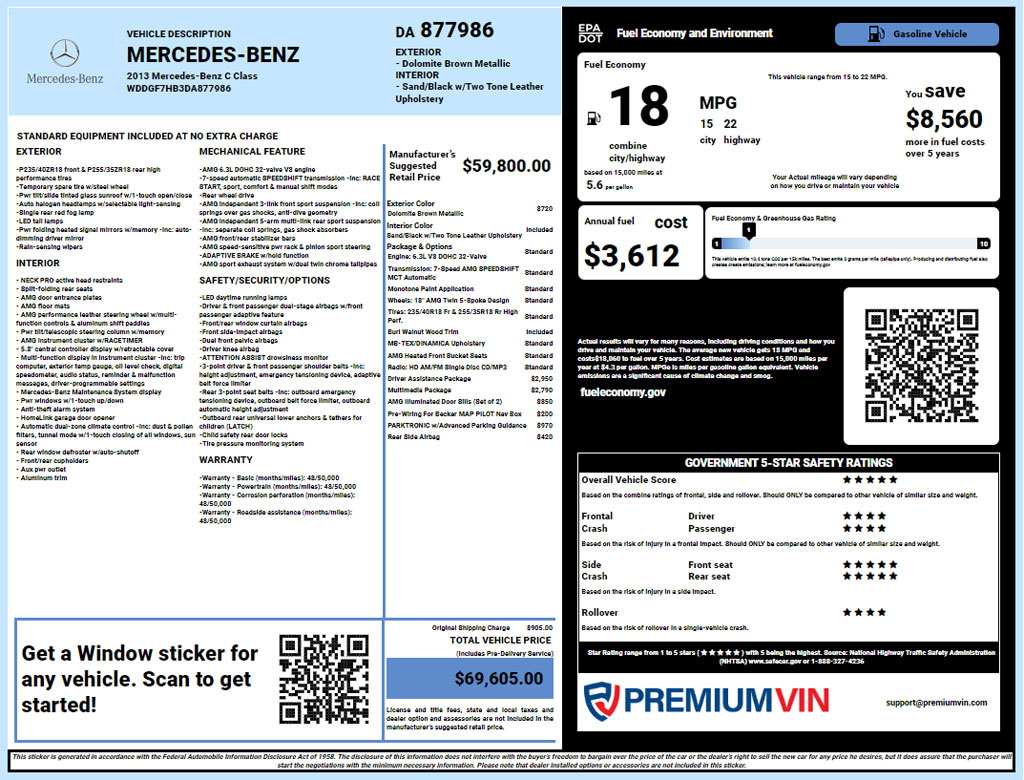 Are you looking to find out the value of your Mercedes-Benz? With the Mercedes Benz Window Sticker Lookup by VIN, you can quickly and easily find out the value of your vehicle.
This online tool gives you the information you need to make the right decisions when it comes to buying or selling your Mercedes. All you have to do is enter your VIN number and the Window Sticker Lookup Tool will provide you with details such as MSRP, options, and vehicle specifications.
With the Mercedes Benz Window Sticker by VIN, you can be sure that you're getting the best deal on your vehicle. It's fast, easy, and free to use, so why wait? Get the information you need to make an informed decision today!
The Information You Will Find On The Mercedes-Benz Window Sticker
A Mercedes Benz window sticker will typically include information about the vehicle's make, model, trim, engine size, body style, fuel type, transmission type, color, and MSRP (Manufacturer's Suggested Retail Price). It can also include information such as standard and optional features, emissions ratings, and fuel economy ratings.
2006 FORD F-150 SUPERCAB 4-WD
VIN: 1FTPX14576FB73459
EXTERIOR - PEARL WHITE
INTERIOR - BLACK
2016 HONDA CR-V 5DR 2WD XL
VIN: 55SWF6EBXGU110456
EXTERIOR - PEARL WHITE
INTERIOR - BLACK
2017 TOYOTA TACOMA
TRD
VIN: 3TMCZ5AN2HM052507
EXTERIOR - BLACK
INTERIOR - GREY
How Does Mercedes-Benz Window Sticker Increase Sales Conversion?
Mercedes Benz window stickers can be a powerful tool for increasing sales conversion. The window sticker provides potential buyers with important information about the vehicle, including its features and options, as well as the current market value. This information can help inform and persuade potential buyers to make a purchase.
Additionally, a well-designed window sticker can be eye-catching and draw attention to the vehicle, increasing the chances a buyer will take a closer look and be more likely to make a purchase.
Lookup a Window Sticker for any Manufacturer
What our customers are saying
It will probably be difficult to express how impressed I am with DVH products and services! Based on browsing their website, I took a big leap of faith and ordered two (2) reports which included a vehicle service & history report and a monroney sticker (window sticker)....
Getting the report was pretty easy and straightforward.The report provided the information for me to make a decision on purchasing a car. The report covered all the basics about recalls, accidents, how many owners etc.
The representative was friendly. The window sticker looks great. Wil show it at the Car Shows with my car.
Just purchased a used vehicle and wanted to know options came with it when it was new. Ordered a sticker and it was very helpful. The staff that I contacted was more than helpful. And yes I would definitely use them again.
I asked for a report on a 2002 Ford Taurus, I was going to sell this car and had a buyer request a report, I was surprised with all the detail information from the end of 2001, at the time when it first went in to operation to the last time I had it serviced....
Frequently Asked Questions
The best way to get a Mercedes Benz window sticker is to contact your local Mercedes Benz dealership and inquire about purchasing one. Or you can use our Mercedes Benz window sticker lookup tool to get one instantly.
To obtain a Mercedes Benz original window sticker by VIN, you need to use the PremiumVIN window sticker lookup tool. You just need to input your VIN and email ID to get the sticker.
Mercedes-Benz is a German automotive manufacturer that is globally renowned for producing luxury vehicles. The company was established in 1926 and is headquartered in Stuttgart, Germany. Mercedes-Benz is a subsidiary of Daimler AG and is one of the most recognized and respected brands in the automotive industry.
The company initially focused on producing luxury cars and quickly established itself as a leader in this segment. Over the years, Mercedes-Benz has expanded its product portfolio to include other types of vehicles, such as SUVs, trucks, buses, and vans. Today, the company produces a wide range of vehicles that cater to different segments of the market.
Mercedes-Benz is known for its innovative engineering and high-quality craftsmanship. The company has a reputation for producing vehicles that are not only luxurious but also highly reliable and durable. Mercedes-Benz is also at the forefront of automotive technology and has developed some of the most advanced safety features and driver-assistance systems in the industry.
In terms of market capitalization, Daimler AG, the parent company of Mercedes-Benz, has a market capitalization of around $91 billion as of February 2023. Mercedes-Benz is one of the leading luxury car brands in the world and has a significant presence in many countries. The company has manufacturing facilities in several countries, including Germany, the United States, and China, and sells its vehicles in more than 170 countries.
Get Window Stickers for the Following Mercedes-Benz Models
Mercedes-Benz GLA Class
Mercedes-Benz SL Class
Mercedes-Benz AMG GT
Mercedes-Benz A Class
Mercedes-Benz B Class
Mercedes-Benz C Class
Mercedes-Benz CLA Class
Mercedes-Benz CLS Class
Mercedes-Benz E Class
Mercedes-Benz G Class
Mercedes-Benz GL Class
Mercedes-Benz S Class
Mercedes-Benz SLK Class
Mercedes-Benz E Class Cabriolet
Mercedes-Benz E Class Coupe
Mercedes-Benz 300D
Mercedes-Benz W126
Mercedes-Benz W112
Mercedes-Benz Mannheim 370
Mercedes-Benz 260 D
Mercedes-Benz 170 H
Mercedes-Benz 500K
Benz Patent-Motorwagen
Mercedes-Benz E Class Sedan
Mercedes-Benz E Class Wagon
Mercedes-Benz G Class SUV
Mercedes-Benz CLA Class Coupe
Mercedes-Benz GL Class SUV
Mercedes-Benz GLE
Mercedes-Benz GLA Class SUV
Mercedes-Benz GLC Class
Mercedes-Benz GLK Class SUV
Mercedes-Benz M Class SUV
Mercedes AMG GT S
Mercedes-Benz S Class Coupe
Mercedes-Benz S Class Sedan
Mercedes-Benz SL Class Roadster
Mercedes-Benz SLK Class Roadster
Mercedes-Benz F-CELL Roadster
Mercedes-Benz SS
Mercedes-Benz W201
Mercede-Benz 2-Litres
Mercedes-Benz 450SEL 6.9
Mercedes-Benz SLS AMG
Mercedes-Benz Sprinter
Mercedes-Benz W126
Meredes-Benz 28/95
Mercedes-Benz SLS Class
Mercedes-Benz R107 and C107
Mercedes-Benz CLK-Class
Mercedes-Benz F-Cell
Mercedes-Benz 200
Mercedes-Benz C300 Sport
Mercedes-Benz AMG
Mercedes-Benz C-Class 350 Sport
Mercedes-Benz R129
Mercedes-Benz Stuttgart 200
Mercedes-Benz W221
Mercedes-Benz W111
Mercedes-Benz 600
Mercedes-Benz CL-Class
Mercedes-Benz C300 Luxury
Mercedes-Benz S-Class Hybrid
Mercedes-Benz W125
Mercedes-Benz W123
Mercedes-Benz SLR McLaren
Mercedes-Benz Viano
Mercedes Benz 170 V
Mercedes-Benz 130
Mercedes-Benz W108
Mercedes-Benz 190SL
Mercedes-Benz W163 Grand Prix
Mercedes-Benz W31
Mercedes-Benz Stuttgart 260
Mercedes-Benz W120
Mercedes-Benz C63 AMG Sedan
Mercedes-Benz 150
Mercedes-Benz 400
Mercedes-Benz 300SL
Mercedes-Benz W219
Mercedes-Benz 320
Mercedes-Benz 770
Mercedes-Benz Vito
Mercedes-Benz 370S
Mercedes-Benz W18
Mercedes-Benz 200 Lang
Mercedes-Benz W143
Mercedes-Benz Velo
Mercedes-Benz Vaneo
Mercedes-Benz W114
Mercedes-Benz V-Class
Mercedes-Benz CLK GTR
Mercedes-Benz 380K
Mercedes-Benz R-Class
Mercedes-Benz W163
Mercedes-Benz Tropfenwagen
Mercedes-Benz W124
Mercedes-Benz 35 hp
Mercedes-Benz W164
Mercedes-Benz C300 Luxury 4MATIC
Mercedes-Benz W10
Mercedes-Benz C300 Sport 4MATIC
Mercedes-Benz W212
Mercedes-Benz K
Mercedes-Benz 540K
Mercedes-Benz CLC-Class
Mercedes-Benz Window Sticker Lookup