Nissan Window Sticker Lookup
Get the original specifications, features, options and packages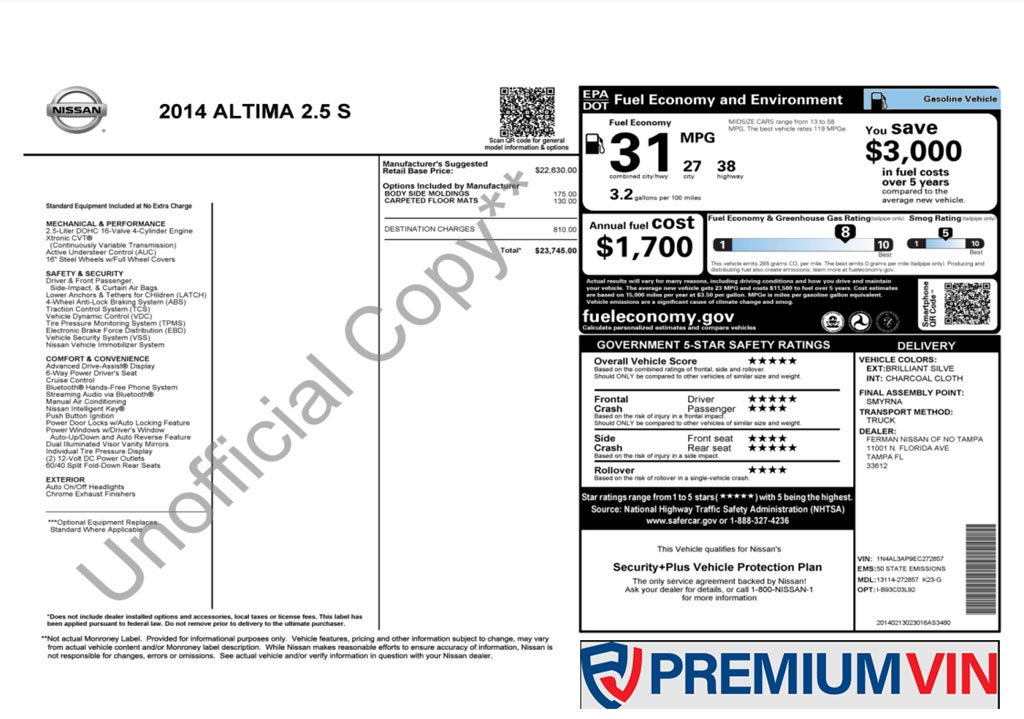 Are you looking for the original window sticker for your Nissan? Whether you're looking for the sticker to complete a project, replace a missing one, or just for curiosity, you need a Nissan Window Sticker Lookup by VIN.
PremiumVIN's window sticker generator tool lets you find the original window sticker for any Nissan vehicle. Just enter the VIN number and we'll give you the original window sticker in a matter of seconds.
With our Nissan VIN Decoder Window Sticker, you'll have the information you need to make an informed decision about your vehicle.
The Nissan Original Window Sticker Lookup provides you with all the information that was included on the original window sticker. You'll get information such as the vehicle's MSRP, MPG, standard equipment, optional equipment, and more. With this information, you'll be able to accurately assess the value of your vehicle.
Don't wait any longer. Get the Nissan Window Sticker Lookup service today and get all the information you need to make an informed decision about your vehicle.
The Information You Will Find On The Nissan Window Sticker
The window sticker for a Nissan vehicle will provide a variety of information about the car, including the vehicle's make and model, its engine size and type, its fuel efficiency, its safety features, its emissions information, its warranty information, and its list price.
Additionally, the window sticker may provide optional equipment information such as air conditioning, navigation, and other features that are available on the vehicle.
2006 FORD F-150 SUPERCAB 4-WD
VIN: 1FTPX14576FB73459
EXTERIOR - PEARL WHITE
INTERIOR - BLACK
2016 HONDA CR-V 5DR 2WD XL
VIN: 55SWF6EBXGU110456
EXTERIOR - PEARL WHITE
INTERIOR - BLACK
2017 TOYOTA TACOMA
TRD
VIN: 3TMCZ5AN2HM052507
EXTERIOR - BLACK
INTERIOR - GREY
How Does Nissan Window Sticker Increase Sales Conversion?
Nissan window stickers provide potential customers with valuable information about the vehicle they're considering purchasing. This information includes the vehicle's features, options, and specifications, as well as the manufacturer's suggested retail price (MSRP). By providing customers with this information, it helps them make an informed decision and encourages them to purchase the vehicle.
Additionally, a Nissan window sticker can help draw attention to the vehicle, increasing its likelihood of being noticed and sold.
Lookup a Window Sticker for any Manufacturer
What our customers are saying
It will probably be difficult to express how impressed I am with DVH products and services! Based on browsing their website, I took a big leap of faith and ordered two (2) reports which included a vehicle service & history report and a monroney sticker (window sticker)....
Getting the report was pretty easy and straightforward.The report provided the information for me to make a decision on purchasing a car. The report covered all the basics about recalls, accidents, how many owners etc.
The representative was friendly. The window sticker looks great. Wil show it at the Car Shows with my car.
Just purchased a used vehicle and wanted to know options came with it when it was new. Ordered a sticker and it was very helpful. The staff that I contacted was more than helpful. And yes I would definitely use them again.
I asked for a report on a 2002 Ford Taurus, I was going to sell this car and had a buyer request a report, I was surprised with all the detail information from the end of 2001, at the time when it first went in to operation to the last time I had it serviced....
Frequently Asked Questions
To read your Nissan VIN number, look for the metal plate on the driver's side of the dashboard (or door jamb). The VIN number is usually 17 characters long and contains both numbers and letters. The first character of the VIN indicates the country of origin, the second character represents the manufacturer, and the remaining characters provide information about the vehicle, including the model, features, and engine type.
Unfortunately, Nissan does not offer free window stickers for its vehicles. The best way to obtain a window sticker for a Nissan vehicle is use our Nissan window sticker tool.
Yes, PremiumVIN does offer Nissan window stickers by VIN. We provide an extensive range of services, including vehicle history reports, market value reports, window sticker copies, and more. To access our services, simply enter your VIN number and instantly receive your window sticker copy.
Nissan Motor Company, Ltd. is a Japanese multinational automobile manufacturer that was founded in 1933. The company is headquartered in Yokohama, Japan and is part of the Renault-Nissan-Mitsubishi Alliance, one of the largest automotive alliances in the world.
Nissan is known for producing a wide range of vehicles, including cars, trucks, SUVs, and commercial vehicles. The company has a strong focus on innovation and has developed several technologies that are now widely used in the automotive industry. Some of Nissan's most popular models include the Altima sedan, the Rogue SUV, and the LEAF electric car.
One of Nissan's core values is sustainability, and the company has made significant investments in electric and hybrid vehicles. The Nissan LEAF, introduced in 2010, was one of the first mass-produced electric cars and has been a popular choice for environmentally conscious consumers. The company also produces hybrid versions of several of its popular models, such as the Rogue Hybrid and the Altima Hybrid.
As of February 2023, Nissan has a market capitalization of around $23 billion. The company has a strong global presence, with manufacturing facilities in several countries, including the United States, Japan, and the United Kingdom. Nissan sells its vehicles in more than 160 countries and is one of the largest automakers in the world.
Get Window Stickers for the Following Nissan Models
Nissan Patrol
Nissan Juke
Nissan X-TRAIL
Nissan Altima
Nissan Sylphy
Nissan Grand Livina
Nissan NP300 / Navara
Nissan Titan
Nissan NV350 Urvan Model
Nissan Leaf
Nissan Maxima
Nissan GT-R
Nissan Almera
Nissan Skyline
Nissan Violet/Stanza
Nissan Caravan / Urvan (1973–present)
Nissan Teana (2003–present)
Nissan Murano (2002–present)
Nissan Armada 2003–present
Nissan Elgrand (1997-present)
Nissan Patrol Super Safari
Nissan Qashqai / Dualis (2006–present)
Nissan Patrol Royale
Nissan Lafesta Highway Star (2004 – 2012)
Nissan Atlas / Cabstar (1982-present)
Nissan Sentra/Tsuru/Sunny (1992–present)
Nissan Pathfinder/Terrano (1985-present)
Nissan Xterra (1999–2015)
Nissan Note (2004–present)
Nissan Quest (2004–2009)
Nissan Cube (1998–present)
Nissan Serena (1991 – present)
Nissan NPT-90 (1990)
Nissan R383 (1970)
Nissan Fairlady Z (2002-present)
Nissan Fairlady Z / 370Z Coupe (2002-present)
Nissan Silvia (1974–2002)
Nissan March / Micra (1982–present)
Nissan Rogue (2007—present)
Nissan Cedric
Nissan Crew
Nissan Leopard
Nissan Cima
Nissan Gloria
Nissan Atleon
Nissan AD/AD Expert Model
Nissan Fairlady Z Roadster / 370Z Roadster
Nissan NP200 Model
Nissan Frontier Model
Nissan NV1500/NV2500 HD/NV3500 HD Model
Nissan NV200 VANETTE Model
Nissan NV350 Caravan Model
Nissan NV400 Model
Nissan Primastar Model
Nissan Versa / Latio
Nissan Versa HB
Nissan Wingroad
Nissan R390 GT1
Nissan Avenir
Nissan NX
Nissan Bevel
Nissan Saurus Jr.
Nissan Saurus
Nissan R'nessa
Nissan R90C
Nissan Livina Geniss
Nissan Diesel RN
Nissan R381
Nissan R89C
Nissan Cedric Y31
Nissan R391
Nissan Civilian
Nissan Paladin
Nissan Gloria Y31
Nissan Vanette
Nissan Cherry
Nissan Figaro
Nissan Pulsar GTI-R
Nissan 240SX
Nissan Bluebird Sylphy
Nissan Tiida
Nissan Almera Tino
Nissan Terrano II
Nissan Hypermini
Nissan Bluebird
Nissan Stagea
Nissan Altra
Nissan 280ZX
Nissan Diesel Space Runner JP
Nissan 300C
Nissan Prince Homer
Nissan Prince Royal
Nissan Bassara
Nissan Homy
Nissan Largo
Nissan Liberty
Nissan Ute
Nissan Prince R380
Nissan Rasheen
Nissan Gazelle
Nissan Diesel Space Runner RM
Nissan GTP ZX-Turbo
Nissan Stanza
Nissan The Third Generation (Z31): 300ZX
Nissan S-Cargo
Nissan Pao
Nissan Sunny
Nissan S30
Nissan Fuga
Nissan Primera
Nissan Z-car
Nissan President
Nissan Presea
Nissan 350Z
Nissan R382
Nissan Diesel Space Runner RP
Nissan Be-1
Nissan Presage
Nissan Bluebird
Nissan Bluebird (U12)
Nissan P35
Nissan Diesel Quon
Nissan Hardbody Truck
Nissan Diesel Big Thumb
Nissan 180SX
Nissan Cefiro
Nissan 200SX
Nissan Diesel Condor
Nissan Prairie
Nissan Laurel
Nissan Sileighty
Nissan Micra
Nissan Window Sticker Lookup