Peterbilt Window Sticker Lookup
Get the original specifications, features, options and packages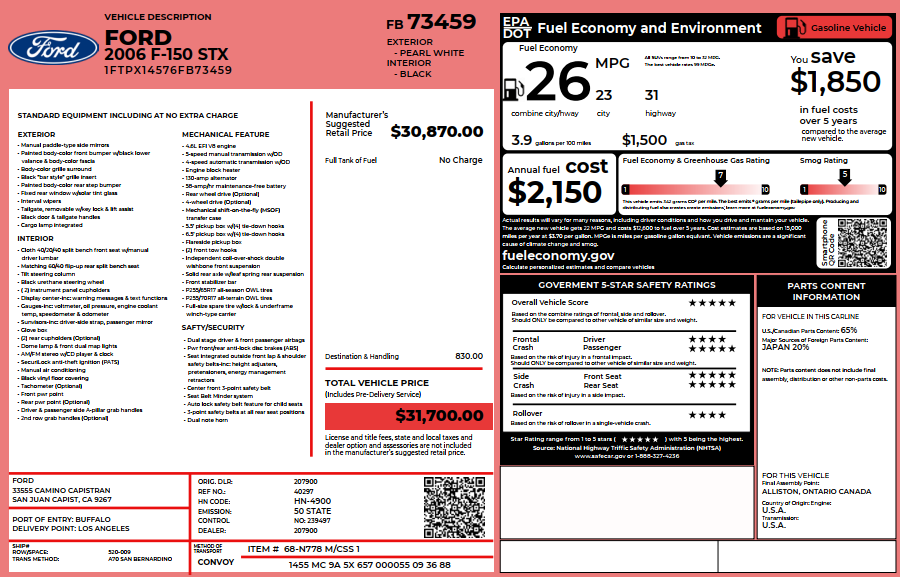 Are you looking for a fast and easy way to look up a Peterbilt window sticker?
Look no further! Our Peterbilt Window Sticker Lookup by VIN is the perfect solution for you. With our easy-to-use system, you can quickly and accurately find the window sticker for your Peterbilt truck. All you need to do is enter the VIN number and you will get the window sticker for your Peterbilt truck in no time.
Get the information you need quickly and accurately with our Peterbilt Window Sticker by VIN.
Start looking up your window sticker today!
The Information You Will Find On The Peterbilt Window Sticker
A Peterbilt window sticker will provide information about the truck's make, model, body type, engine, transmission, and other specifications. It will also list the vehicle's Gross Vehicle Weight Rating (GVWR), Gross Axle Weight Rating (GAWR), and Tire Pressure Rating (TPR). Additionally, the window sticker will provide information about the truck's standard and optional equipment, as well as the available warranty coverage.
2006 FORD F-150 SUPERCAB 4-WD
VIN: 1FTPX14576FB73459
EXTERIOR - PEARL WHITE
INTERIOR - BLACK
2016 HONDA CR-V 5DR 2WD XL
VIN: 55SWF6EBXGU110456
EXTERIOR - PEARL WHITE
INTERIOR - BLACK
2017 TOYOTA TACOMA
TRD
VIN: 3TMCZ5AN2HM052507
EXTERIOR - BLACK
INTERIOR - GREY
How Does Peterbilt Window Sticker Increase Sales Conversion?
Peterbilt window stickers can help increase sales conversion by providing potential customers with a quick overview of the features and benefits of the vehicle. They can also help convince potential customers that the vehicle is worth the investment. Window stickers can inform customers of the vehicle's power, fuel efficiency, towing capacity, MSRP, and other important information. By providing this information, customers can make an informed decision about the vehicle and be more likely to purchase it.
Lookup a Window Sticker for any Manufacturer
What our customers are saying
It will probably be difficult to express how impressed I am with DVH products and services! Based on browsing their website, I took a big leap of faith and ordered two (2) reports which included a vehicle service & history report and a monroney sticker (window sticker)....
Getting the report was pretty easy and straightforward.The report provided the information for me to make a decision on purchasing a car. The report covered all the basics about recalls, accidents, how many owners etc.
The representative was friendly. The window sticker looks great. Wil show it at the Car Shows with my car.
Just purchased a used vehicle and wanted to know options came with it when it was new. Ordered a sticker and it was very helpful. The staff that I contacted was more than helpful. And yes I would definitely use them again.
I asked for a report on a 2002 Ford Taurus, I was going to sell this car and had a buyer request a report, I was surprised with all the detail information from the end of 2001, at the time when it first went in to operation to the last time I had it serviced....
Frequently Asked Questions
To get a window sticker for your Peterbilt, you can use PremiumVIN Peterbilt Window Sticker generator tool. It's easy to use and the price is very affordable.
Yes. We provide Peterbilt factory window sticker reports at a reasonable price.
Yes, you can. It's very easy to get a window sticker from the VIN number. Just input the 17-digit VIN number and get the full window sticker report.
Peterbilt Window Sticker Lookup