Volvo Window Sticker Lookup
Get the original specifications, features, options and packages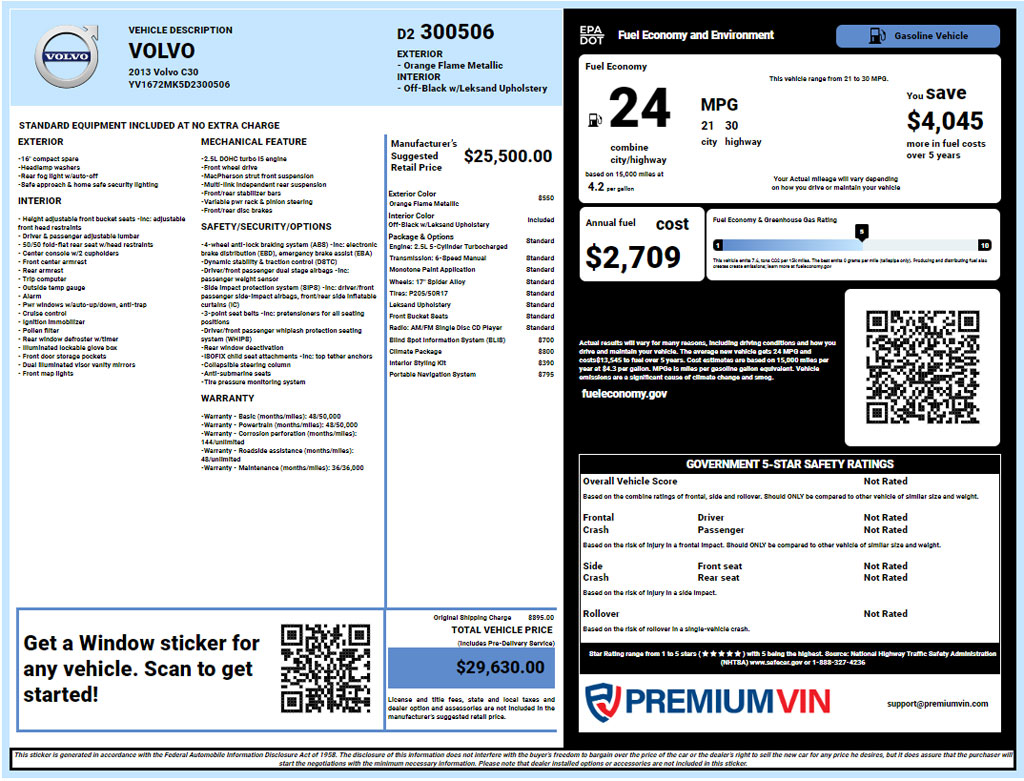 Are you looking for a reliable and accurate way to research and identify the features of your Volvo? Look no further Use our Volvo Window Sticker Lookup by VIN tool!
The Premium VIN Volvo Window Sticker Lookup tool provides you with instant access to the original window sticker for your vehicle. Our easy-to-use database lets you quickly find all the information you need, from vehicle trim level to options packages and more.
We understand that making a purchasing decision is an important process and our Volvo Window Sticker by VIN helps to make that process easier. With our detailed information, you can make a fully informed and confident decision about your vehicle purchase.
Don't waste time searching for the features of your Volvo – get the answers you need right away with Volvo Original Window Sticker Lookup by VIN. With our service, you can quickly and easily identify the features of your vehicle and make the right decision for you.
The Information You Will Find On The Volvo Window Sticker
A Volvo window sticker will provide information about the vehicle, including its make, model, trim level, engine type, standard and optional equipment, exterior and interior colors, and price. It will also provide a summary of the car's emissions and fuel economy ratings, as well as a list of safety features. Finally, the window sticker will provide a Vehicle Identification Number (VIN).
2006 FORD F-150 SUPERCAB 4-WD
VIN: 1FTPX14576FB73459
EXTERIOR - PEARL WHITE
INTERIOR - BLACK
2016 HONDA CR-V 5DR 2WD XL
VIN: 55SWF6EBXGU110456
EXTERIOR - PEARL WHITE
INTERIOR - BLACK
2017 TOYOTA TACOMA
TRD
VIN: 3TMCZ5AN2HM052507
EXTERIOR - BLACK
INTERIOR - GREY
How Does Volvo Window Sticker Increase Sales Conversion?
The Volvo window sticker by VIN is a must-have tool for anyone looking to make informed decisions regarding their vehicle. It provides an extensive range of applications that can help to increase sales conversion rate and provide the best outcome for your vehicle.
The Volvo Vin lookup window sticker provides comprehensive information about the vehicle and can help to ensure that any decisions made are in the best interest of the vehicle. By utilizing this tool, you can be sure to make decisions that are beneficial to your vehicle in the short and long term.
Lookup a Window Sticker for any Manufacturer
What our customers are saying
It will probably be difficult to express how impressed I am with DVH products and services! Based on browsing their website, I took a big leap of faith and ordered two (2) reports which included a vehicle service & history report and a monroney sticker (window sticker)....
Getting the report was pretty easy and straightforward.The report provided the information for me to make a decision on purchasing a car. The report covered all the basics about recalls, accidents, how many owners etc.
The representative was friendly. The window sticker looks great. Wil show it at the Car Shows with my car.
Just purchased a used vehicle and wanted to know options came with it when it was new. Ordered a sticker and it was very helpful. The staff that I contacted was more than helpful. And yes I would definitely use them again.
I asked for a report on a 2002 Ford Taurus, I was going to sell this car and had a buyer request a report, I was surprised with all the detail information from the end of 2001, at the time when it first went in to operation to the last time I had it serviced....
Frequently Asked Questions
Unfortunately, original window stickers from Volvo are no longer available. Volvo does not provide them for vehicles that are older than 2 years. However, you may be able to find a reproduction window sticker from a third-party website like PremiumVIN.
Yes, it is possible to obtain an original Volvo window sticker by VIN. Just enter your VIN number in our Volvo window sticker generator form and get the window sticker within a moment.
The cost of a Volvo window sticker will depend on the model and year of the vehicle. Volvo window stickers typically range from around $15 to over $50.
Volvo is a Swedish automotive manufacturer that was founded in 1927. The company is headquartered in Gothenburg, Sweden and is known for producing a wide range of vehicles, including cars, trucks, buses, and construction equipment.
Volvo focuses primarily on producing luxury cars and SUVs, with a particular emphasis on safety and environmental sustainability. The company has a reputation for producing high-quality vehicles that are designed to be safe and reliable.
In recent years, Volvo has made a commitment to producing electric and hybrid vehicles, with a goal of having all-electric vehicles make up 50% of its global sales by 2025. The company has also invested heavily in developing autonomous driving technology, with a goal of having fully autonomous vehicles on the road by 2025.
As of March 2023, Volvo's market capitalization is approximately $77 billion USD. The company is owned by Geely Automobile Holdings, a Chinese multinational automotive company. Volvo has a global presence, with operations in Europe, Asia, and the Americas.
Get Window Stickers for the Following Volvo Models
Volvo V40
Volvo V90
Volvo XC90
Volvo S90
Volvo S80
Volvo V60
Volvo XC70
Volvo XC60
Volvo 480
Volvo C70 (1997–2013)
Volvo C30 (2006–2013)
Volvo S40 (1995–2012)
Volvo V40 Cross Country
Volvo S60 (2000–present)
Volvo V90 Cross Country
Volvo 140 Series
Volvo 200 Series
Volvo 850
Volvo PV801-10
Volvo PV51-57
Volvo V50 (2004–2012)
Volvo 440/460
Volvo 164
Volvo YCC (2004)
Volvo VESC (1972)
Volvo Venus Bilo (1933)
Volvo T6 (2005)
Volvo Tundra (1979)
Volvo SCC (2001)
Volvo Philip (1952)
Volvo GTZ
Volvo ECC (1992)
Volvo Concept You (2011)
Volvo Concept XC Coupe
Volvo Concept Estate
Volvo Concept Coupe
Volvo City Taxi (1977)
Volvo ACC (1997)
Volvo ACC2 (2002)
Volvo EC (1977)
Volvo Elisabeth I (1953)
Volvo LCP2000 (1983)
Volvo Margarete Rose (1953)
Volvo PCC (2001)
Volvo PCC2 (2002)
Volvo ReCharge Concept (2007)
Volvo S60 Concept (2008)
Volvo Universe Concept (2011)
Volvo VCC (1980)
Volvo XC60 Concept (2006)
Volvo 1800 ESC
Volvo 3CC (2005)
Volvo Amazon/Volvo 122 (1956–1970)
Volvo C202 (1981)
Volvo C3-series (1974 – 1984)
Volvo Duett (1953–1969)
Volvo PV51 (1936-1945)
Volvo PV650 Series (1929–1937)
Volvo PV444/544 (1944–1966)
Volvo PV800 Series (1938-1958)
Volvo PV 36 Carioca (1935-1938)
Volvo PV 60 (1946–1950)
Volvo P1900 (1956–1957)
Volvo TR670 Series (1930–1937)
Volvo 66 (1975–1980)
Volvo ÖV 4 (1927–1929)
Volvo 700 Series
Volvo P1800 (1961–1973)
Volvo L3314
Volvo PV821-4
Volvo Window Sticker Lookup